Past Post Commander Ernie Brosh at Camden County Veterans Ceremony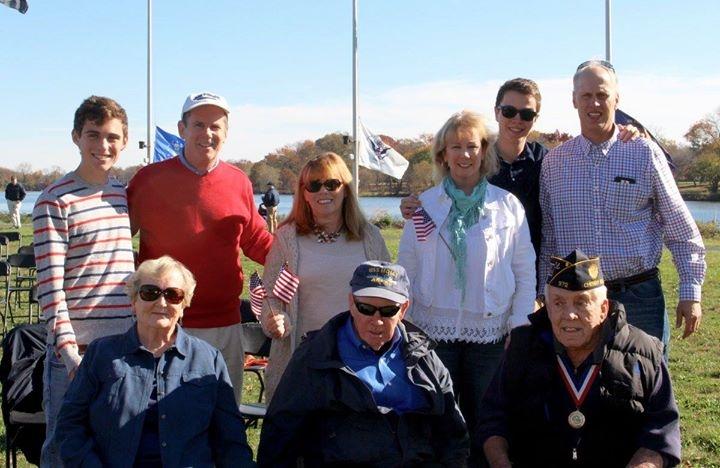 November 9, 2015) – Hundreds of veterans and their families attended the Freeholder Board's annual Veterans Day observance, held on Sunday, November 8th at Veteran's Island.
Camden County Military Service Medals were presented to five veterans in attendance. The medal was created by the Freeholder Board to honor the men and women who have made Camden County proud by serving their country with honor and valor.
Military Service Medals were presented to Gordon Lampitt (Army, WWII), John Walsh III(Navy, Cold War), Richard Mayland (Coast Guard, Korea & Vietnam), Roger Rider (Army, Korea), and Richard Vanwhy (Army, Afghanistan & Iraq).
Camden County Special Recognition Medals were also presented to three individuals who have made have made a lasting impact to the lives of our veterans. The medals were presented to Barbara Borowiec, Kevin Eheer, and Tony Meade.
"This day and everyday we should reflect on the contributions of the men and women, past and present, who have faithfully served our nation," said Freeholder Deputy Director Ed McDonnell, liaison to the Camden County Office of Veterans Affairs. "I am humbled by the selfless service of our brave men and women who fight every day to protect our country and our way of life."
The ceremony was held at Cooper River Park's Veteran's Island, which contains six memorial plaques and meditative areas honoring Camden County residents killed in World War I, World War II, Korea, Vietnam and during the Desert Shield/Desert Storm battle. A sixth section is dedicated to the Global War on Terror that began with the attack on the World Trade Center on Sept. 11, 2001.
"Veterans Island serves as a lasting tribute to Camden County's veterans from all wars," said Freeholder Deputy Director Ed McDonnell. "The Freeholder Board invites all county residents to this park to reflect on the contributions of the men and women, past and present, who have faithfully served our nation."