Vietnam Dog Tag Return & Support Fellow Legionnaire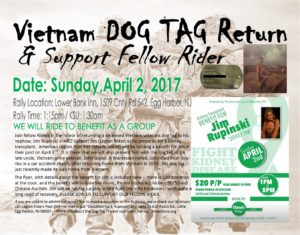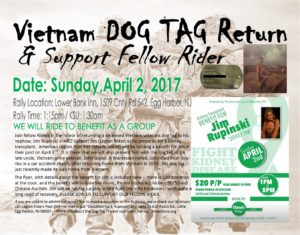 Dear Fellow Legion MEMBERS (Legionnaires, SALs, Aux and Riders)
Please join fellow Legion members in the honor of returning a deceased Vietnam veterans dog tag to his nephew, Jim Rupinski Jr AND support Jim (Legion Rider) as he prepares for a kidney transplant. American Legion Post 493 (Mystic Island) will be holding a benefit for Jim at their post on April 2nd. It is there that we will also present him with the dog tag of his late uncle, Vietnam army veteran, John Guyer. A Waretown native, John died from injuries in a car accident shortly after returning home from Vietnam in 1970. His dog tag just recently made its way home from Vietnam.
The flyer, with details about the benefit for Jim is included here – there is $20 donation at the door, and the benefit will include live music, Penne Vodka w/chicken, 50/50 and Chinese Auction. Jim will be having surgery in late April (his wife his donor) - with quite a long road of recovery. PLEASE JOIN US TO SUPPORT OUR FELLOW RIDER.If interested in attending, speak to Robert or Art to see what time everyone is meeting at Post 372 - we will all leave together and proceed to Lower Bank Inn to meet up with others before proceeding to the benefit.
If you are unable to attend but would like to make a donation to Jim Rupinski, make check out to American Legion Riders Post 493—In memo put "Donation for J. Rupinski" and send to 420 Radio Rd., Little Egg Harbor, NJ 08087. - More info about the Dog Tag Project visit www.PatriotConnections.org
History of the Dog Tag: Patriot Connections Dog Tag Project – mission is to return dog tags found in Vietnam to the veterans/family they belong to. This dog tag was sent along by Aaron Bougourd (British veteran) who was volunteering for the Father Ray Foundation Orphanage in Thailand when he met Major Thien, a South Vietnamese officer living as a refugee. Major Ly Kim Thien was commissioned as an officer of the Republic of Vietnam Air Force in 1964 and served in several capacities throughout Vietnam up until the fall of Saigon in 1975. It was after this that he was sent to a communist reeducation camp, where he was tortured and forced to denounce his anti-communist beliefs. In 1994 he escaped Vietnam on foot through Cambodia and on to Thailand, which is where Aaron Bougourd met him.
Aaron went on to help Major Thein find his long lost family in Vietnam, and as a show of appreciation for his help, Major Thein's family gave him about 50 dog tags they had dug up at Bien Hoa Air Base.
Aaron, a British Army and Royal Navy veteran and a resident of the UK, has sent the dog tags to Patriot Connections to help with returning them to the veterans/families they belong to.
For more information about the Patriot Connections Dog Tag Project, please visit www.patriotconnections.org and follow the link to the Dog Tag Project