South Jersey Vietnam Veteran to receive Bronze Star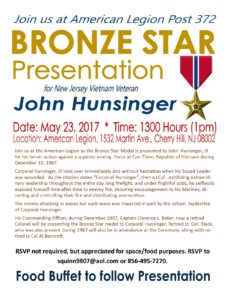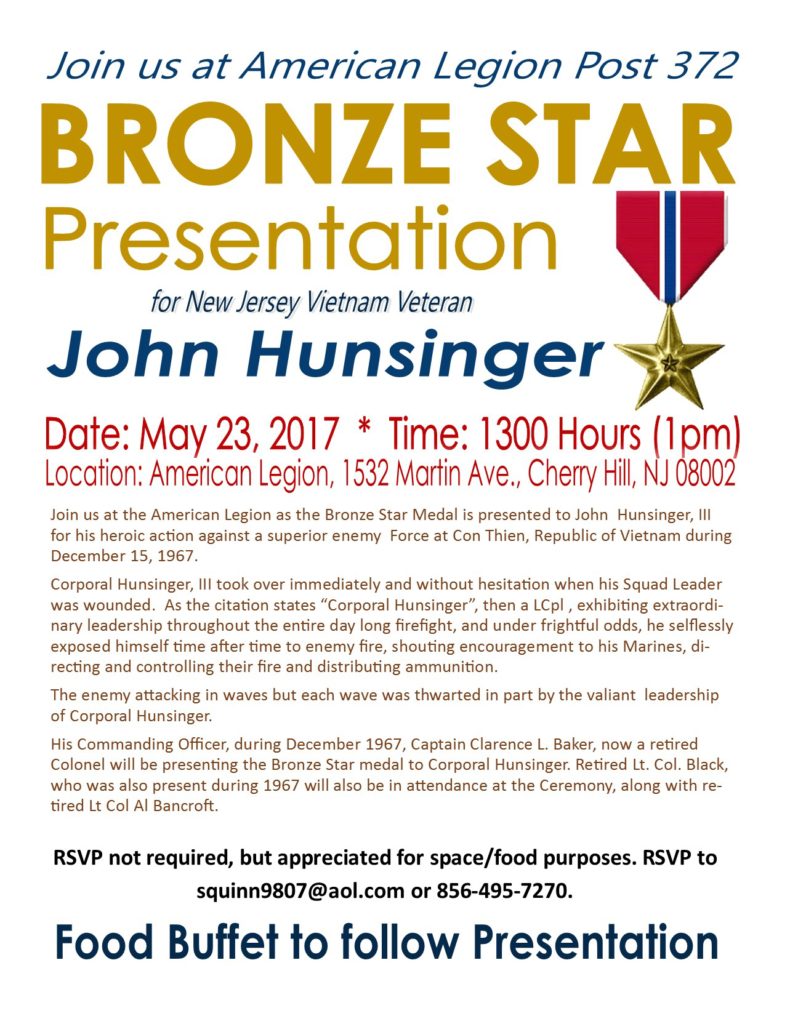 Join us at American Legion Post 372 Cherry Hill on May 23rd (1pm) as the Bronze Star Medal is presented to John Hunsinger, III for his heroic action against a superior enemy Force at Con Thien, Republic of Vietnam during December 15, 1967.
Corporal John Hunsinger, III took over immediately and without hesitation when his Squad Leader was wounded. As the citation states "Corporal Hunsinger", then a LCpl , exhibiting extra
ordinary leadership throughout the entire day long firefight, and under frightful odds, he selflessly exposed himself time after time to enemy fire, shouting encouragement to his Marines, directing and controlling their fire and distributing ammunition.

The enemy attacking in waves but each wave was thwarted in part by the valiant leadership of Corporal Hunsinger.

His Commanding Officer, during December 1967, Captain Clarence L. Baker, now a retired Colonel will be presenting the Bronze Star medal to Corporal Hunsinger. Retired Lt. Col. Black, who was also present during 1967 will also be in attendance at the Ceremony, along with retired Lt Col Al Bancroft.

RSVP not required, but appreciated for space/food purposes. RSVP to squinn9807@aol.com or 856-495-7270.
FOOD BUFFET to follow Presentation.