Funeral for Korean War POW Walter Piper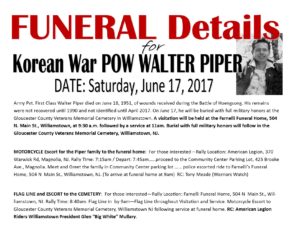 Saturday, June 17th – ESCORT for FAMILY of KOREAN War POW Walter Piper to his funeral.
We will escort the family of this hero who sacrificed his life for us to his funeral. Private First Class Walter Frank Piper, member of Headquarters Company, 3rd Battalion, 38th Infantry Regiment, 2nd Infantry Division, was taken Prisoner of War by the enemy in South Korea on February 13, 1951. He died as a result of wounds on June 18, 1951 while being held prisoner.
He was born on April 6, 1930 and resided in Williamstown, NJ. He was the son of the late Charles and the late Almira Piper. He is survived by many nieces and friend Ralph Delaney, who made it possible for Walter Piper's remains to be identified and returned home.
Meet at 7:15am at American Legion, Warwick Rd, Magnolia, NJ. We will depart there at 7:45 and proceed to the Community Center on Brooke Ave in Magnolia, where we will meet/greet the family and escort them to Farnelli Funeral Home, 502 Main St., Williamstown. (Police escorted ride).
For those interested, there will also be a flag line at the funeral home from 9:00am – after the service (approx 12noon) and then motorcycle escort to Gloucester County Veterans Memorial Cemetery for full military burial.