Motorcycle Escort for remains of Navy Sailor Kenneth Smith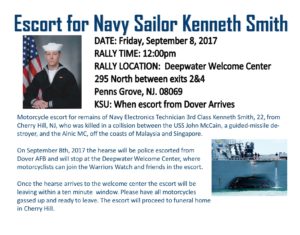 Members of American Legion flagged Schetter Funeral Home prior to escort arriving on September 9th...
September 8, 2017 - Escort of Navy Sailor Kenneth Smith, killed on USS John McCain - Motorcycle escort for remains of Navy Electronics Technician 3rd Class Kenneth Smith, 22, from Cherry Hill, NJ, who was killed in a collision between the USS John McCain, a guided-missile destroyer, and the Alnic MC, off the coasts of Malaysia and Singapore. On September 8th, 2017 the hearse will be police escorted from Dover AFB and will stop at the Deepwater Welcome Center, where motorcyclists can join the Warriors Watch and friends in the escort. Rally at Deepwater Welcome Center 295 North between exits 2&4, Penns Grove, NJ at 11:30am (revised time).