Epic Ride – Join Ride or Meet at the Legion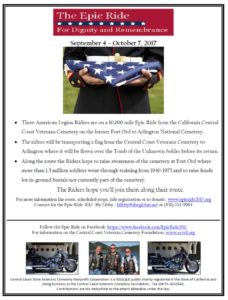 On September 17th, three ALR from California's Post 31 will be venturing from Washington DC to Cornwall-on-Hudson. They will be riding up I-95 and making their way on to 295N. They chose a location roughly 1/2 way to stop for a bite to eat and mingle with some local Riders… that place just happens to be Cherry Hill Post 372! From there, the group is heading out and taking the Turnpike to the Parkway and then to their final destination.
We will be riding with them (escorting so to speak) from the Deepwater Welcome Center just over the DMB on 295N. The time will be around 10:30AM and from there, after a short Meet & Greet, we will ride to Post 372. Anyone interested in joining us on the ride can start at Post 372 (KSU 9:30AM) or rally at the Welcome Center.
Please consider joining us for lunch and if you can, a ride!
Also, check out the attached flyer. You will see this is a ride to raise awareness of the cemetery at Fort Ord AND to raise funds so yes… please consider making a donation on behalf of your Riders.