Hurricane Relief Collection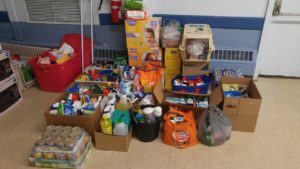 After the tragic aftermath of the Hurricane in Texas and Florida, American Legion Post 184 of Wildwood NJ organized a Hurricane Relief Collection and members of their Legion planned a road trip to bring all the donations to the Hurricane victims.
American Legion Post 372 Aux of Cherry Hill set up a collection at Family Day, to be given to the Wildwood Legion to deliver. Our Legion got a ton of stuff !
On Tuesday, September 19th, members of the Wildwood Legion came and picked up our collection and were headed out on their trip to Florida with the donations (4 truckloads).
A heartfelt thanks to all those that donated!