NJ Run for the Fallen 2017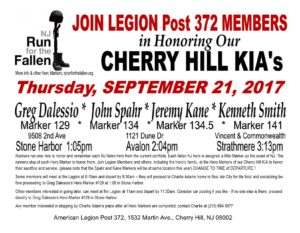 NJ Run for the Fallen – In an apolitical reflection of remembrance a team of military runners from Joint Base McGuire-Dix-Lakehurst and other locations across the US will come together to embark on a 190+ mile journey to honor every New Jersey service member killed in support of Operation Iraqi Freedom, Enduring Freedom, Operation New Dawn and other conflicts….
​
Each mile is dedicated to a fallen NJ Hero and their Gold Star Family, and the run team will stop at each Hero Marker (each mile) to present a flag and personalized biographical card to waiting family members, friends and comrades with the goal of creating a 190+ mile memorial trail through New Jersey.
As in past years, members of our American Legion participated in honoring our Cherry Hill Heroes that sacrificed their lives. Unfortunately, this year we had to add another, Navy Sailor Kenneth Smith, to the list.