American Legion Post 372 – Boycott of the NFL – November 12, 2017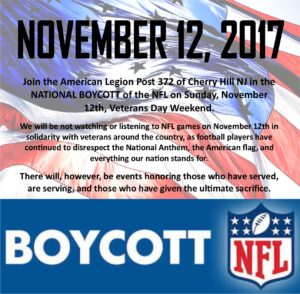 Join the American Legion Post 372 of Cherry Hill NJ in the NATIONAL BOYCOTT of the NFL on Sunday, November 12th, Veterans Day Weekend.
We will be not watching or listening to NFL games on November 12th in solidarity with veterans around the country, as football players have continued to disrespect the National Anthem, the American flag, and everything our nation stands for.
There will, however, be events honoring those who have served, are serving, and those who have given the ultimate sacrifice.