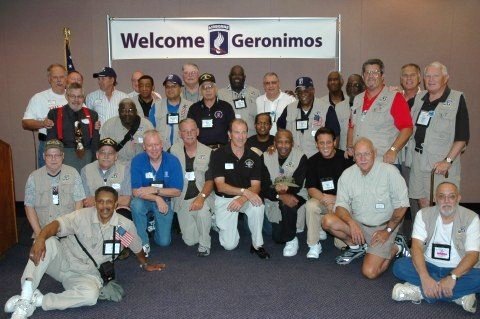 GERONIMO BATTALION, JUNE 1966 – JUNE 1967
Original Geronimo Battalion. In early 1966, the 1st Battalion, 501st Parachute Infantry Regiment, 101st Airborne Brigade, Ft Campbell, KY, was ordered to Vietnam. The famous nickname of the 1/501st was "Geronimo" and we called ourselves, "The Geronimo Battalion." We even had a wooden Indian mascot, cigar-store vintage, at Battalion HQ. Under command of LTC "Iron Mike" Healy, we deployed to Vietnam in June 1966 as the 4th Battalion, 503d Parachute Infantry, to join the 173d Airborne Brigade in country. Though we changed crests and shoulder patches, we still called ourselves, "The Geronimo Battalion."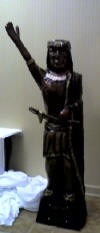 June 6, 1966.

On June 6th, 1966, (WW II D Day) 820 troopers of the newly-constituted 4th Battalion departed Ft Campbell enroute to Vietnam. The advance party flew to Vietnam on a C-124. The main body flew by C-130s to Oakland, CA, where they embarked on the SS John Pope, a WW II troop ship. After 18 long days at sea, the Pope landed at Vung Tau and the troops went to the sprawling Bien Hoa Air Base complex north of Saigon. Three future Medal of Honor recipients were on that ship: Don Michael, Glenn English and Lazlo Rabel. Don Michael's MOH was for actions in April 1967 and the others in later tours.
Combat Missions.

During its 12 months in Vietnam, the original 4th Battalion participated in numerous missions involving air assaults, blocking, search and destroy and reinforcement throughout I, II and III Corps. Our AO ranged from Bien Hoa to the DMZ. On one of its first missions, a 4/503d MEDEVAC was captured on camera and became the best-known photo of the Vietnam conflict - The Agony of War.
The ultimate sacrifice. In the 12 months that the original troopers were in country, 51 of our buddies died. At each reunion, the names of those fallen are read by their surviving buddies. The wounds of war have caused the premature deaths of many of our fellow soldiers. And, PTSD and Agent Orange have changed the lives of scores of once-healthy young men.