Cherry Hill PBA to hold Veterans Appreciation Dinner!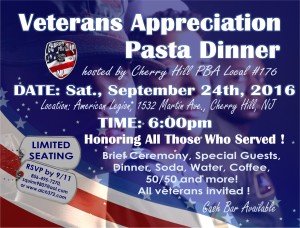 Cherry Hill PBA Local 176  will be holding a Veterans Appreciation Dinner on Saturday, September 24, 2016 at 6pm at the American Legion Post 372, 1532 Martin Ave, Cherry Hill, NJ. Brief Ceremony, Special Guests, Dinner, Coffee, Soda, Water, 50/50 and more! Cash Bar Available.
Veterans that are interested in attending should RSVP asap as there is limited seating. To reserve your ticket(s), fill out the form below or call 856-495-7270. Your ticket(s) will be sent to you. FIRST COME, FIRST SERVE!