Friday Nite Dinner Specials for April 24th - Pulled Pork, French fries, Veggie $9.95 OR Sampler Platter $11.95. All regular menu items available.
Friday,  May 1, 2015 – Halle Lewun Trust Fund Benefit – 7-11pm. Food, Beer, Soda, Live Entertainment, Chinese Auction. Donation $20 pp, $30 per couple.
Saturday, May 16, 2015 – SILVER STAR PRESENTATION – 11am – Join us for SILVER STAR PRESENTATION to the family of Camden County Vietnam KIA James Castaldi on Saturday May 16th at 11am. Cpl James Castaldi was killed in action in Vietnam on Jan 12, 1968. Now, some 47 years later, his heroism will be recognized. Lt Gen Mike Davison Jr (ret) – his Company Commander in Vietan, and Tom Golden, his Platoon Leader, along with others from his battalion, will be coming to town and will present Castaldi's family with the Silver Star posthumously awarded to him. Other local dignitaries will be on hand to join inthe Presentation. Lite Lunch Buffet to follow. All welcome
Saturday, May 16, 2015 – Flagging at Colestown Cemetery. Join in with flagging the veterans graves at Colestown. This year, in addition to the boy scouts helping, Samaritan and Civil Air Patrol will be helping too. If interested in helping, contact Carol Colucci for details/time.
Sunday, May 17, 2015 – Flagging at Locustwood Cemetery. Join us in our long standing tradition in flagging all the Veterans Graves at Locustwood Cemetery. This year marks the 80th Anniversary of when Locustwood Cemetery donated 400 plots for Legionnaires and their spouses. Meet at Locustwood at 10am. This year members of the JCC will be helping with flagging as well. Questioins? Contact Dave Larsen.
Saturday, May 23, 2015 – Camden County Veterans Affairs Memorial Day Services. 10am at Camden County Veterans Cemetery at Harleigh Cemetery, Kaighn Ave., Camden
Monday, May 25, 2015 – MEMORIAL DAY SERVICES. Join us in our Annual Memorial Day Services. Our schedule is as follows; 9:30am—Services begin at the American Legion Post flagpole. 10am—Proceed to Locustwood Cemetery for service. 10:30am—Service at Battan/Corregidor Monument, Cooper River 11am—Memorial Day Ceremony at Cherry Hill Township Building. SAL Member, John Giacoboni and crew will be on hand at the Township to do all the cooking and serving of food.
Tuesday, May 26, 2015 – Installation of Officers at the Legion
Friday, May 29, 2015 – Poker Night 7:30pm. Dealers Choice. Sign up at the Legion.
Saturday, May 30, 2015 – Flagging of Cpl Jeremy Kane KIA 5K Run Route. Jeremy, a Cherry Hill native, was KIA in Afghanistan in 2010.  As in the past, our American  Legion will flag the 5K route. If you can help flag the route on Saturday, May 3oth—8am—please contact Sue Quinn-Morris.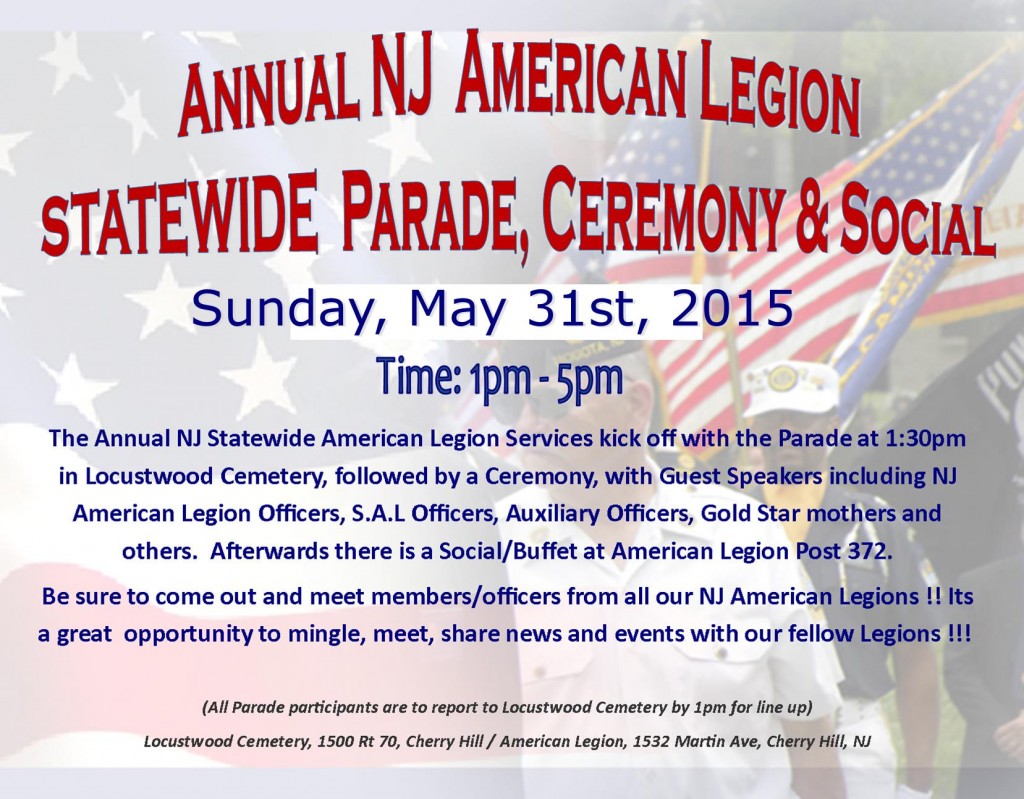 Sunday, May 31st, 2015 – 80th Annual Locustwood NJ American Legion STATEWIDE Parade, Ceremony & Social – The Annual NJ Statewide American Legion Services kick off with the Parade on Sunday, May 31st at 1:30pm at Locustwood Cemetery, followed by a Ceremony, with Guest Speakers including NJ American Legion Officers, S.A.L. Officers, Auxiliary Officers, Gold Star mothers and others. Afterwards there is a Social/Buffet at American Legion Post 372, Cherry Hill. Be sure to come out and meet members/officers from all our NJ American Legions !! Its a great opportunity to mingle, share news and events with our fellow Legions !!!
June 11th – 13th, 2015 – Annual American Legion Convention in Wildwood.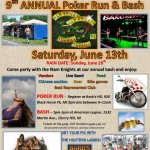 June 13, 2015 – Nam Knights Annual Bash - Saturday, June 13, 2015 (Rain date June 28th)
POKER RUN – Register at Barbs HD, 926 E Black Horse Pike, Mt Ephraim, NJ between 9-11am
FALL BASH – 1-5pm at American Legion, 1532 Martin Ave., Cherry Hill, NJ 08002
Vendors, Barometer Live Band, Food, Chinese Auction, Beer, Bike Games, Best Represented Club. Get your picture with the Hooters Ladies
Tickets at Gate – $25 Donation gets you in!
All proceeds benefit veterans and law enforcement. http://www.delvalnamknights.org/.
July 11, 2015 – Legion Riders Rodeo. Details to follow.