The Legion kitchen is closed for the summer – will reopen September 30th.
Veterans Day Ceremony at the Legion- More details to follow.
November 8, 2015 – Philadelphia Veterans Parade will be held on Sunday, November 8th. Some of our veterans and Legion Riders will be participating in the Parade. It kicks off at 12noon at Broad & Walnut. More details to follow. Visit the website at http://www.phillyveteransparade.org
November 14, 2015 – Cpl Marc T. Ryan 5K Run/Walk –  For the 5th year, we will participate in the Cpl Marc Ryan 5K Run/Walk by providing a motorcycle escort and road block. Meet at Cold Springs School, Market and Hughes Ave., Gloucester City, NJ at 8am. We will depart to the race start line at 8:30am.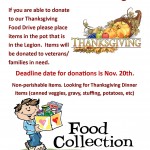 Deadline November 27th, 2015 – Thanksgiving Food Collection – Tis the Season of giving – if you are able to donate to our Thanksgiving Food Drive please place items in the pot that is in the Legion. Items will be donated to veterans / families in need. Deadline date for donations is Nov 27th. Non-perishable items. Looking for Thanksgiving Dinner items (canned veggies, gravy, stuffing, potatoes, etc)
November 26, 2015 – Thanksgiving for the Troops on Battleship NJ – Thanksgiving Day – Stay tuned for more details. As in the past, we will rally at the Legion and proceed to the Battleship NJ to form a flag line / motorcycle line on the pier of the Battleship to welcome in Active Duty Military and Homeless veterans for a Thanksgiving Day Mea.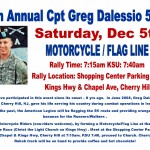 Friday, December 4th – Flagging for the 8th Annual Cpt Greg Dalessio 5K Run/Walk – For anyone interested in helping to flag the 5K Route, meet at the Legion at 7:30 on Friday, Dec 4th. Questions, contact Sue Q at squinn9807@aol.com
Saturday, December 5th – 8th Annual Cpt Greg Dalessio 5K Run/Walk -We have participated in this event since its onset – 8 yrs ago. In June 2008, Greg Dalessio of Cherry Hill, NJ, gave his life serving his country during combat operations in Iraq. As in the past, the Legion will be flagging the 5K route and providing oranges and bananas for the runners/walkers. Join Motorcycle riders (non-riders welcome) by forming a Motorcycle/Flag Line at the start of the Race. Meet at the Shopping Center Parking Lot, Chapel Ave & Kings Hwy, Cherry Hill at 7:15am. We will depart at 7:40am to the Race Start Line. Questions, contact Sue Q at squinn9807@aol.com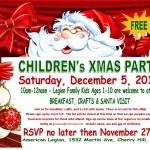 Legion Kids Holiday Party – Saturday, December 5, 2015. 10am-12noon – Legion family kids ages 1-10 are welcome. Breakfast, Santa and Santa Visit. Join us for breakfast, crafts and a visit from Santa. There is no cost for this event. Please sign up by November 27th. THe list will be closed at that time so we can prepare enough food and surprises for those who attend. It's a wonderful time for the children. We hope to see you there ! All children must be accompanied by an adult. Sign up can be done at the Legion or by emailing Kathy at gosixers@comcast.net. RSVP no later then November 27th.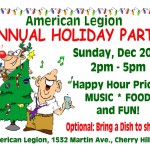 Annual HOLIDAY PARTY – American Legion Post 372 Annual HOLIDAY PARTY!!!! Sunday, December 20, 2015. 2pm-5pm – Come celebrate the holiday season with all your Legion friends! Happy Hour Prices, Free Jukebox and Food. Optional: Bring a Dish.