The American Legion Kitchen will be CLOSED until after the holidays. Stay tuned for reopen date.

The regularly scheduled General Membership Meeting on Tuesday, December 23rd is CANCELLED.
The regularly scheduled Legion Riders meeting on December 22nd is CANCELLED.
COMPLIMENTARY FOOD during the Eagles games on Sunday and during Monday Night Football !!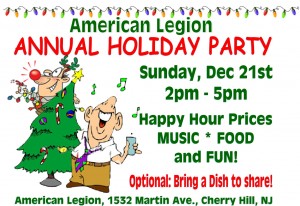 Sunday, December 21, 2014 – American Legion Post 372 Annual HOLIDAY PARTY!!!!  2pm-5pm – Come celebrate the holiday season with all your Legion friends! Always a great time!!! Happy Hour Prices, Free Jukebox and Food. Optional: Bring a Dish.
Sunday, Feb 1st, 2014 – Superbowl Party. Stay tuned for details.
Sunday, May 17, 2015 – Annual Flagging of Locustwood Cemetery. Stay tuned for more details.
Monday, May 25th, 2015 – Memorial Day Ceremony. Stay tuned for details.
Sunday, May 31st, 2015 – Locustwood NJ American Legion STATEWIDE Parade, Ceremony & Social – The Annual NJ Statewide American Legion Services kick off with the Parade on Sunday, May 31st at 1:30pm at Locustwood Cemetery, followed by a Ceremony, with Guest Speakers including NJ American Legion Officers, S.A.L. Officers, Auxiliary Officers, Gold Star mothers and others. Afterwards there is a Social/Buffet at American Legion Post 372, Cherry Hill. Be sure to come out and meet members/officers from all our NJ American Legions !! Its a great opportunity to mingle, share news and events with our fellow Legions !!!
June 11th – 13th, 2015 – Annual American Legion Convention in Wildwood.