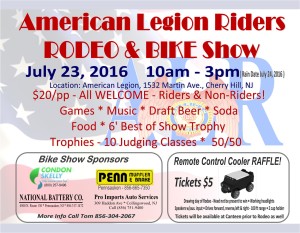 July 23rd – Legion Riders Rodeo and Bike Show – 10am-3pm – Rain Date July 24th. Bike Games, Bike Show, Trophies, Food, DJ, Beer, 50/50, Remote Control Cooler. $20 per person, all welcome – riders and non-riders. See flyer for more details and sponsors.
Sept 2016 – Roar to the Shore – Bike Week in Wildwood. More details to follow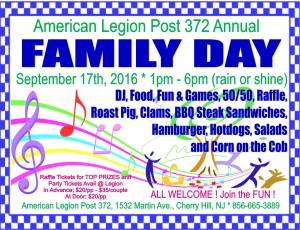 September 17, 2016 – Annual American Legion FAMILY DAY – Mark your calendars and get your tickets! The SALS Annual American Legion Family Day is Saturday, September 17th – 1pm-6pm. Rain or Shine ! DJ Music, Fun, Games, 50/50 Raffle, Roast Pig, Clams, BBQ Steak Sandwiches, Burgers, Dogs, Salads and much more!… Party tickets and raffle tickets for TOP PRIZES are available at the Legion.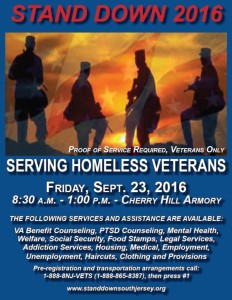 September 23, 2016 – Stand Down of South Jersey at Cherry Hill Armory. 8:30am – 1pm. To volunteer or donate, visit their website at http://www.standdownsouthjersey.org/
September 23, 2016 – NJ Run for the Fallen. Details to follow.
November 2016 – Veterans Day at the Legion. Details or ceremony to follow
November 2016 – Thanksgiving for the Troops at the Battleship of NJ. Details to follow.
December 3, 2016 – 9th Annual Cpt Greg Dalessio 5K Run/Walk – Details to follow.