Friday Night Dinner Specials for March 6th –  Crab Cakes, French Fries, Veggie, Apple Sauce  $13.95 OR Pulled Pork, French Fries, Veggie $9.95. All other regular menu items available.
** CHECK OUT OUR NEW TV NEWSBOARD on the Legion TV ! Upcoming events, late breaking news, veterans information, and lots of photos scroll on the TV 24/7. PLEASE CONSIDER SUPPORTING this endeavor by ADVERTISING YOUR BUSINESS on the TV NEWSBOARD – ONLY $25/per month. For more details, contact Sue at squinn9807@aol.com. **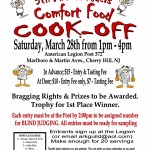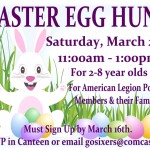 Saturday, March 21st, 2015 – Easter Egg Hunt for American Legion Post 372 Members and their families. Ages 2-8yrs old. 11am – 1pm. Must sign up by March 16th. Sign up at Legion or email gosixers@comcast.net.
Saturday, March 28th, 2015 – Comfort Food Cook-Off. 1pm – 4pm. Bragging Rights & Prizes to be awarded. Trophy for 1st Place Winner. Each entry must be at the Legion by 2pm to be assigned number and blind judging. All entries must be ready for sampling. Entry categories: 1. Soup, Stews and Chili, 2. Main Dish, 3. Side Dish, 4. Misc. Entrants sign up at Legion or email arkguild@aol.com. Make enough for 20 servings. In Advance – $15 -includes entry and tasting fee. At Door – $10 Entry fee only – $7 Tasting Fee only
Tuesday, April 14, 2015 – GATHERING of HEROES -Celebrating the 70th Anniversary of the raising of the flag at Iwo Jima at the 6th Annual GATHERING OF HEROES. Join these war heroes as they swap stories and serve drinks at the Irish Pub. Medal of Honor Recipients confirmed to attend are Hershel "Woody" Williams – Iwo Jima, Mike Thornton – Vietnam, Barney Barnum – Vietnam, and Brian Thacker – Vietnam. Event Location: Irish Pub, 20th & Walnut St. Philadelphia, PA. $20 admission fee. Raffle * 50/50 * T-Shirts * Medal of Honor Books * Medal of Honor Autographed Citations * and more! INTERESTED IN BEING A SPONSOR for this great cause?…. Sponsorships starting as low as $100 (which includes 1 Ticket to the event and YOUR NAME/ORGANIZATION listed on the SPONSOR BANNER outside the Irish Pub)…for complete listing of sponsorship levels, go to http:If you are interested in going to this event on the BUS from NJ, fill out the Bus Reservation Form that is under the flyer below. The Bus will depart from American Legion Post 372, 1532 Martin Ave., Cherry Hill, NJ at 4:45pm on April 14, 2015. We will proceed to the Irish Pub, 20th & Walnut St, Philadelphia, PA for the Gathering of Heroes event. We will depart at the end of the event and return back to the American Legion at about 8:15pm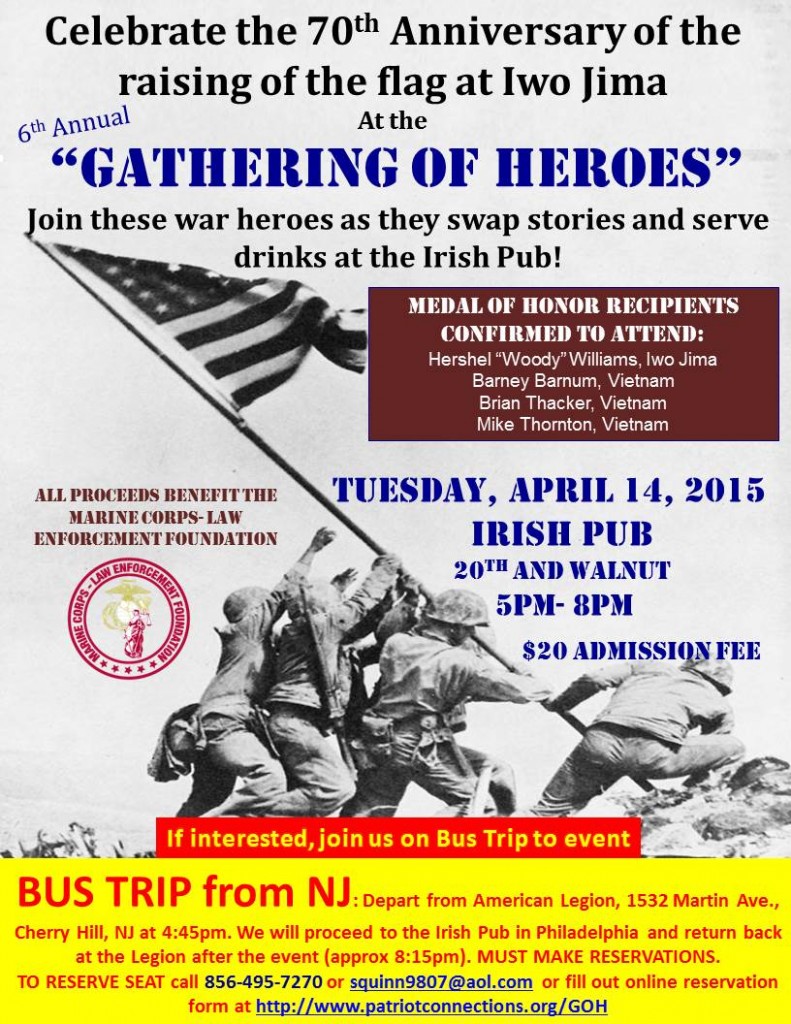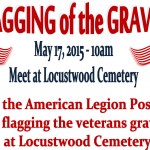 Sunday, May 17, 2015 – Annual Flagging of Locustwood Cemetery. Join us in flagging all the Veterans Graves at Locustwood Cemetery. Meet at the cemetery at 10am. Any questions? Speak with Dave Larsen.
Monday, May 25th, 2015 – Memorial Day Ceremony. 9:30am at the Legion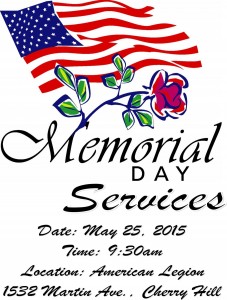 Installation of Officers – Date to be determined.
Sunday, May 31st, 2015 – Locustwood NJ American Legion STATEWIDE Parade, Ceremony & Social – The Annual NJ Statewide American Legion Services kick off with the Parade on Sunday, May 31st at 1:30pm at Locustwood Cemetery, followed by a Ceremony, with Guest Speakers including NJ American Legion Officers, S.A.L. Officers, Auxiliary Officers, Gold Star mothers and others. Afterwards there is a Social/Buffet at American Legion Post 372, Cherry Hill. Be sure to come out and meet members/officers from all our NJ American Legions !! Its a great opportunity to mingle, share news and events with our fellow Legions !!!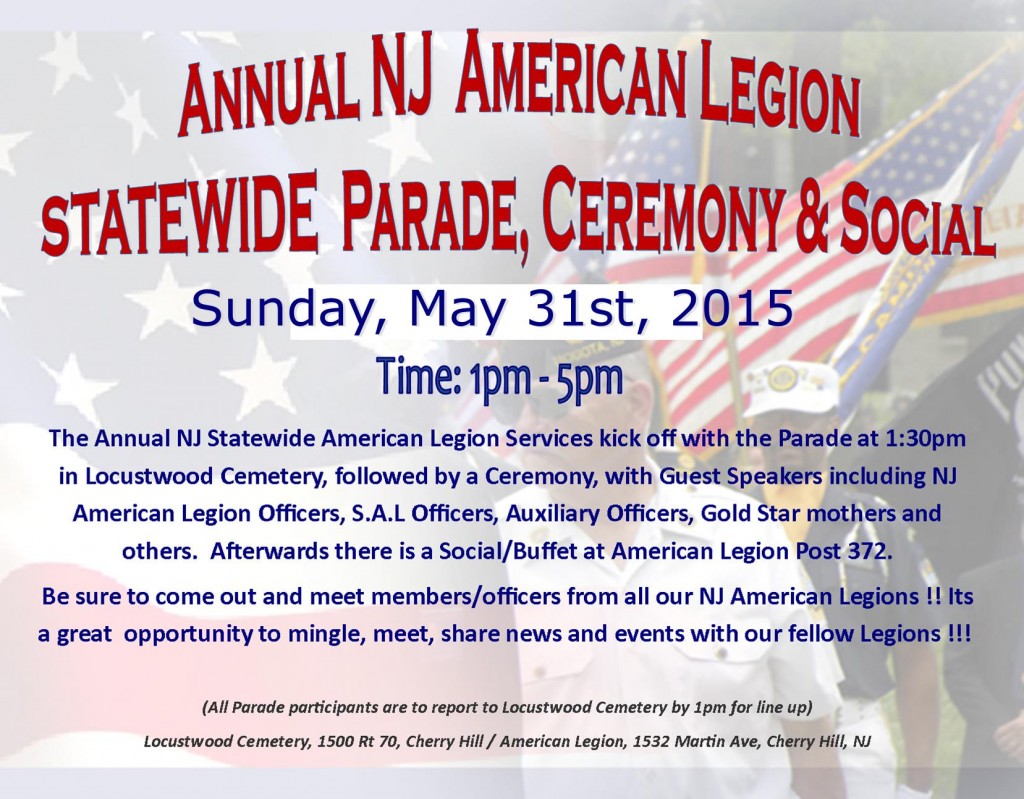 June 11th – 13th, 2015 – Annual American Legion Convention in Wildwood.
June 13, 2015 – Nam Knights Annual Bash - More details to follow soon.
July 2015 – Erlton Independence Day Parade – Date and more details to follow.