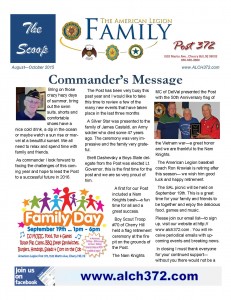 Check out our newest SCOOP NEWSLETTER – Covering August – October 2015. Click here or on image to view or print. Includes lots of photos and articles of events over the last few months, and information on upcoming events!
The Legion kitchen is closed for the summer – will reopen September 30th.
September 19, 2015 – Annual Family Day at the Legion – Tickets available at the Legion now. Join us for one of our most attended events of the year! Great time. Rain or Shine. DJ, Music, Food, Fun and Games. Roast Pig, Clams, BBQ, Burgers, Hotdogs, Salads, Corn on the Cob. $20pp – $35 per couple.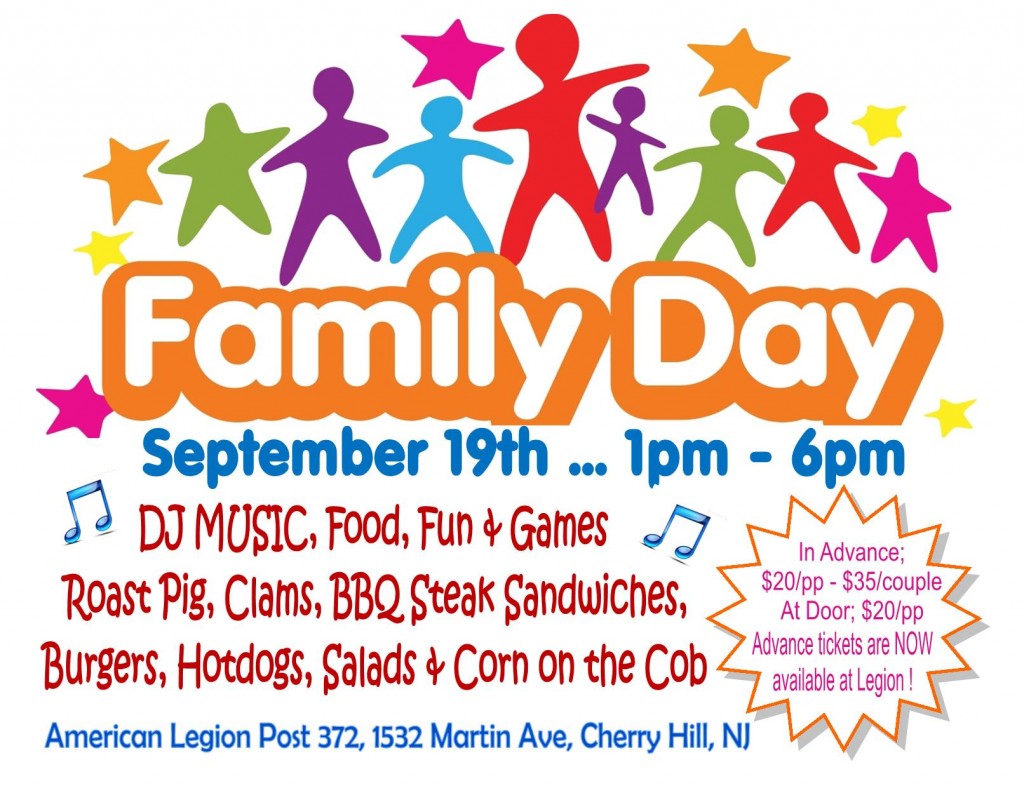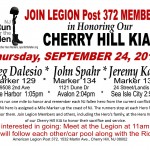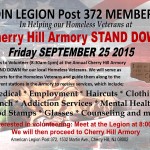 Thursday, September 24, 2015 – NJ RUN FOR THE FALLEN – Join Legion members in honoring our Cherry Hill KIA's (Greg Dalessio, John Spahr and Jeremy Kane). We will station ourselves at their Hero Mile Markers, along with their family members, to honor their service and sacrifice, as the Runners come by. If interested in going, meet at the Legion at 11am
Friday, September 25, 2015 – CHERRY HILL ARMORY STAND DOWN - Join Legion members to volunteer at the Cherry Hill Armory STAND DOWN for our local Homeless Veterans. We will serve as Escorts for the Homeless Veterans and guide them along to the different stations in the Armory to receive services, which include; Haircuts, Medical, Lunch, Clothing, Employment, Glasses, Counseling and More. If interested, meet at the Legion at 8am and we will then proceed to the Cherry Hill Armory.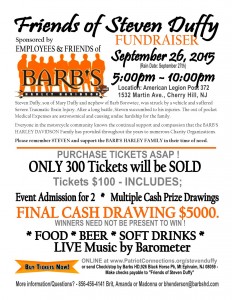 Saturday, September 26, 2015 – Friends of Steven Duffy – Barbs HD Family & Friends Fundraiser at the Legion. 5pm -10pm. Only 300 Tickets will be sold – giving you a 1 in 300 chance of winning $5000 ! See flyer for details, or click here.
Veterans Day Ceremony – More details to follow.
Cpl Marc T. Ryan 5K Run/Walk – More details to follow
Thanksgiving for the Troops on Battleship NJ – Thanksgiving Day – More details to follow
Cpt Greg Dalessio 5K Run/Walk – More details to follow
Legion Kids Holiday Party – More details to follow