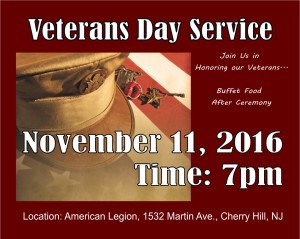 November 11,  2016 – Veterans Day at the Legion. Join us on Friday, November 11th at 7pm at the Legion for our annual Veterans Day Service. Food Buffet to follow.
November 19, 2016 – Annual Cpl Marc Ryan 5K Run/Walk – More details to follow.
November 2016 – Thanksgiving for the Troops at the Battleship of NJ. Meet at the Legion at 9am. We will depart for the Battleship NJ at 9:15am where we will form a Flag Line on the Pier. Bring your 3 x 5 flags, or make some signs thanking our veterans.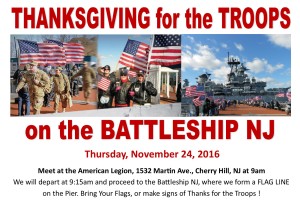 December 3, 2016 – 9th Annual Cpt Greg Dalessio 5K Run/Walk – Details to follow.