Dinner Special for Friday, October 24th -Crab Cakes, French Fries, Coleslaw and Applesauce $13.95. The Legion kitchen will also be open for lunch on Saturday, October 25th. 
FOOTBALL SEASONS HERE – The Legion will be providing COMPLIMENTARY FOOD during the Eagles games on Sunday and during Monday Night Football !! Be sure to come out and watch the games!
————
WELCOME HOME AT THE LEGION !!  
Date: Sunday, October 26th
Who: Lt Col Jesse Arnstein USAF
Where: American Legion Post 372, 1532 Martin Ave., Cherry Hill, NJ 08002

On Sunday, October 26, 2014, the family of Lt Col Jesse Arnstein USAF will be holding a Welcome Home Party for him at the American Legion to celebrate his safe homecoming after an 8 month deployment in Afghanistan.
Before his party begins, we will welcome Lt Col Jesse Arnstein home in "rock star" fashion! We have arranged a few surprises for him with his wife, which include a surprise Motorcycle Escort to the Legion, a grand flag and welcoming line for when he arrives, patriot music and local dignitaries.
The Master of Ceremonies, American Legion Commander Bill Quinn, will welcome Lt Col Arnstein in and introduce local dignitaries, and numerous guests/organizations to say a few words and do presentations.
About Lt Col Jesse Arnstein - Operations Officer, 177th Logistics Readiness Squadron
Lt Col Jesse Arnstein, U.S. Air Force, was deployed to Afghanistan from March – October 2014 as the Public Affairs Director for Combined Joint Interagency Task Force 435, the unit responsible for terrorist detainee operations and assisting Afghanistan in establishing a justice system to prosecute national security threats.  As the Public Affairs Director, he responded to inquiries from major news outlets; prepared correspondence to senior U.S. government officials including the Commander all US & NATO troops and the US Senate; and interacted with foreign soldiers and civilians. Following the deployment he returns to his former position with the New Jersey Air National Guard's 177th Fighter Wing
Lt Col Arnstein has been serving our country for 19 years. He resides in Voorhees, NJ, with his wife Jill and children Aaron (12) and Sarah (9). His hobbies include competitive running, cycling, horticulture, and photography.
To participate in the FLAG LINE alongside of Operation Yellow Ribbon, Legion Members, CHFD, family and friends, be at the Legion no later than 12:30pm.
To participate in the MOTORCYCLE ESCORT alongside of Warriors Watch, Legion Riders, Nam Knights and other MCs/groups, be at the Legion by 11:30am. Motorcycles will depart at approx 12noon to pick up Lt Col Arnstein at his house in Voorhees, and escort him back to the Legion for his Welcome Home Party.

Friday, October 31, 2014 – Welcome Home Chris Baynes – Motorcycle Escort- The Commander of American Legion Post 281, Evan Graham, has requested that we try and come out for his cousin's welcome home. Details below;
Motorcycle Escort for Chris Baynes to a welcome home celebration being held for him
Rally point: Rest Area Rt 295 northbound(approx. 2 miles from Delaware Memorial Bridge)
Rally time: 0800
KSU: 0855 or when hero gets there
For those that can not make the trip down to the rally point you can meet at the Home Depot
in Lawnside at 0900
RC Evan Graham
Saturday, November 8th, 2014 – Log Splitting Day at the American Legion. Meet at 9am.
Sunday, November 9th, 2014 – Camden County Veterans Day Ceremony – 1pm at Veterans Island, Cooper River Park, Pennsauken, NJ.
Sunday, November 9th, 2014 – VETERANS DAY SERVICE at the Legion. 3pm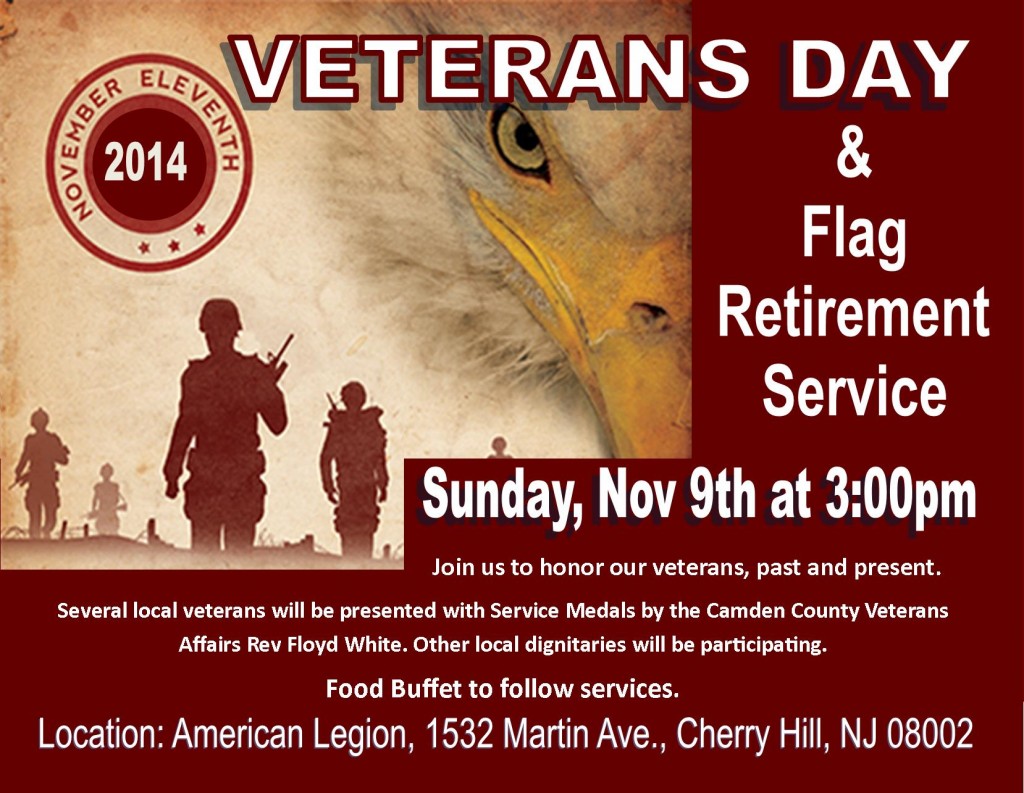 Saturday, November 15, 2014 – Cpl Marc Ryan 5K Run/Walk –  Marc Ryan was KIA on November 15, 2004  in Ramadi, Al Anbar Province.  If you are interested in participating in the 5K Run/Walk, go to http://lmsports.com/ to register. For the 4th year, we have been asked to participate in the Cpl Marc Ryan 5K Run/Walk to help motorcycle escort and road guards to help the PD. Motorcycle Riders rally at Cold Springs School, Market & Hughes Ave, Gloucester City, NJ at 8am. We will depart for start line at 8:30am.
Thursday, November 27th, 2014 – THANKSGIVING FOR THE TROOPS -Help us honor Active Duty Military and their families aboard our nations most decorated battleship, Battleship New Jersey, as they arrive for a traditional full course Thanksgiving turkey dinner.
Parking – Lot 2 (FREE PARKING), which is diagonal from the Susquehanna Bank Center.
FLAG LINE on the Pier – Please join us in providing a Flag/Greeting Line on the Pier at the Battleship NJ – be there by 10am. Bring flags and posters to show your support. All volunteer greeters will enjoy refreshments and entertainment by the Original Trilby String Band.
MOTORCYCLE LINE on the Pier – For motorcyclists, please join Warriors Watch and friends in providing a motorcycle line/flag line on the pier.
Rally Location: TBD
Rally Time: TBD
KSU: TBD
Friday, December 5th, 2014 – Flagging of 5K route for Cpt Greg Dalessio Run/Walk. Details to follow.
Saturday, December 6th, 2014 – Log Splitting at the American Legion. Meet at 9am
Saturday, December 6th, 2014 – 7th Annual Cpt Greg Dalessio 5K Run/Walk. We have participated in this event since its onset – 7 years ago.  In June 2008, Greg Dalessio, of Cherry Hill, NJ, gave his life serving his country during combat operations in Salman Pak, Iraq. Always with a smile on his face, Greg touched the lives of others through his everyday actions and genuine kindness. Whether with family, friends, or co workers, Greg always found a way to make people feel special and important. Greg has always been a hero to his family, demonstrating how others are supposed to be treated and how to love unconditionally. If you are interested in participating in the 5K Run/Walk, go to http://lmsports.com/ to register. If you would like to join us in the Flag Line (riders and non-riders welcome), meet at the Shopping Center Parking Lot, Kings Highway & Chapel Ave., Cherry Hill, NJ at 7:15am. We will depart at 7:40am and proceed to Christ the Light Church to form the flag line.
Saturday, December 13, 2014 – Legion Family Childrens Christmas Party. Ages 1-10.  10am-12noon. Breakfast, Crafts and Santa Visit. FREE. MUST SIGN UP BY NOVEMBER 30th. To Sign up, email Kathy at gosixers@comcast.net or sign up at the Legion.