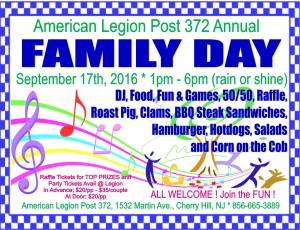 September 17, 2016 – Annual American Legion FAMILY DAY – Mark your calendars and get your tickets! The SALS Annual American Legion Family Day is Saturday, September 17th – 1pm-6pm. Rain or Shine ! DJ Music, Fun, Games, 50/50 Raffle, Roast Pig, Clams, BBQ Steak Sandwiches, Burgers, Dogs, Salads and much more!… Party tickets and raffle tickets for TOP PRIZES are available at the Legion.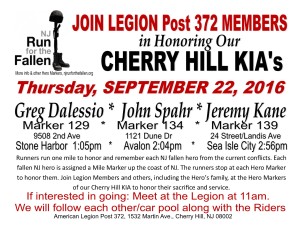 September 22, 2016 – NJ Run for the Fallen. – Thursday, Sept 22nd – Hero Marker for Greg Dalessio #129, Time 1:05pm, Stone Harbor PD/Fire Depts, 9508 2nd Ave, Stone Harbor. Hero Marker for John C Spahr #134, Time 2:04pm, 1121 Dune Dr, Avalon. Hero Marker for Jeremy Kane #139, Time 2:56pm, 24th St/Landis Ave, Sea Isle City. Rally time, etc to follow…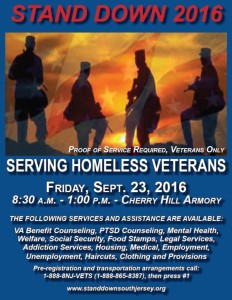 September 23, 2016 – Stand Down of South Jersey at Cherry Hill Armory. 8:30am – 1pm. To volunteer or donate, visit their website at http://www.standdownsouthjersey.org/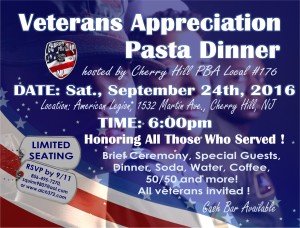 September 24, 2016 – Veterans Appreciation Dinner hosted by Cherry Hill PBA Local 176 at 6pm at the American Legion Post 372, 1532 Martin Ave, Cherry Hill, NJ. Brief Ceremony, Special Guests, Dinner, Coffee, Soda, Water, 50/50 and more. Cash bar available. Veterans that are interested in attending should RSVP asap as there is limited seating. TO SIGN UP, click here or call 856-495-7270, squinn9807@aol.com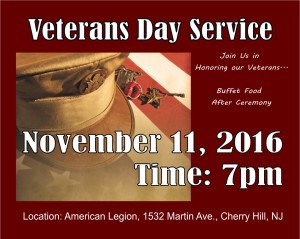 November 11,  2016 – Veterans Day at the Legion. Join us on Friday, November 11th at 7pm at the Legion for our annual Veterans Day Service. Food Buffet to follow.
November 19, 2016 – Annual Cpl Marc Ryan 5K Run/Walk – More details to follow.
November 2016 – Thanksgiving for the Troops at the Battleship of NJ. Meet at the Legion at 9am. We will depart for the Battleship NJ at 9:15am where we will form a Flag Line on the Pier. Bring your 3 x 5 flags, or make some signs thanking our veterans.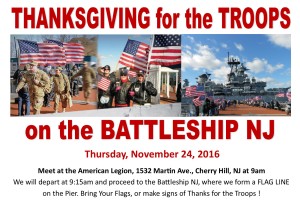 December 3, 2016 – 9th Annual Cpt Greg Dalessio 5K Run/Walk – Details to follow.