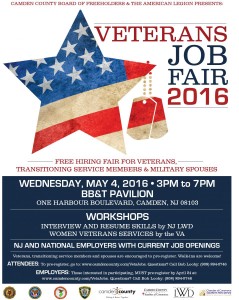 May 4, 2016 – Veterans Job Fair – Attn: Legionnaires – The American Legion Dept of NJ is looking for help with this event. If you can donate some time at this event, contact Chuck at cwalter210@verizon.netThe Veterans Job Fair is a free hiring fair for veterans, transitioning service members, and military spouses. The fair features local and national employers with current job openings and workshops on interviewing & resume skills, as well as veterans services for women.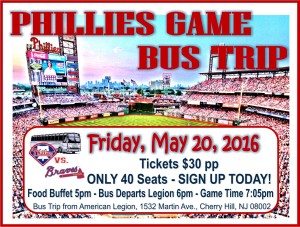 May 20, 2016 – Bus Trip to the Phillies Game – Phillies vs Atlanta. Game Time 7:05. Food Buffet 5pm. Bus Departs the Legion at 6pm. Limited seats available. Purchase yours soon if you want to be sure to get seat! Tickets $30 per person. Purchase your tickets at the Legion.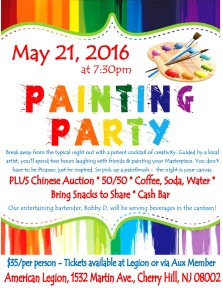 May 21, 2016 – Painting Party ! Break away from the typical night out with a potent cocktail of creativity. Guided by a local artist, you'll spend two hours laughing with friends & painting your Masterpiece. You don't have to be Picasso; just be inspired. So pick up a paintbrush –  the night is your canvas.  PLUS Chinese Auction * 50/50 * Coffee, Soda, Water * Bring Snacks to Share * Cash Bar. $35/per person – Tickets available at Legion or via Aux Member. Our entertaining bartender, Bobby D, will be serving beverages in the canteen!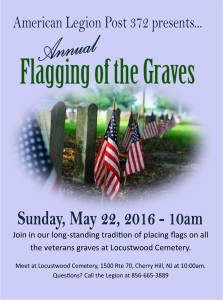 May 22nd, 2016 – Flagging of Locustwood Cemetery – Join in our Annual Flagging of Locustwood Cemetery. We will flag all veterans graves. If interested, meet at Locustwood Cemetery, Rt 70, Cherry Hill, NJ at 10am. Flags and maps will be given to volunteers when they arrive. Any questions, call Bill Quinn. 
May 28,2016 – Camden County Veterans Affairs Memorial Day Service  at the historic Camden County Veterans Cemetery at Harleigh Cemetery, 1640 Haddon Avenue, Camden, New Jersey 08103 at 10am
May 30th, 2016 – Memorial Day Services. 9:30am Services at the Legion, followed by Services at 10am at Locustwood Cemetery, then Service at Cooper River and Service/Lunch at Cherry Hill Township on Mercer St at 11am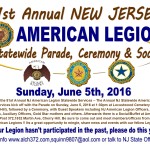 June 5, 2016 – Annual NJ American Legion Statewide Services – The Annual NJ Statewide American Legion Services kick off with the Parade on Sunday, June 5, 2016 at 1:30pm at Locustwood Cemetery, followed by a Ceremony, with Guest Speakers including NJ American Legion Officers, S.A.L. Officers, Auxiliary Officers, Gold Star mothers and others. Afterwards there is a Social/Buffet at American Legion Post 372, Cherry Hill. Be sure to come out and meet members/officers from all our NJ American Legions !! Its a great opportunity to mingle, share news and events with our fellow Legions !!
June 9 – 12th, 2016 – American Legion Wildwood Convention.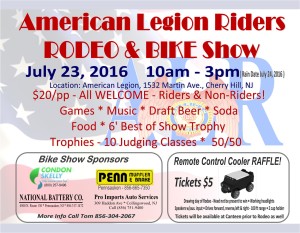 June 19th – 24th, 2016 –  71st session of ALJBS  at Rider University. http://www.aljbs.org/
July 23rd – Legion Riders Rodeo and Bike Show – 10am-3pm – Rain Date July 24th. Bike Games, Bike Show, Trophies, Food, DJ, Beer, 50/50, Remote Control Cooler. $20 per person, all welcome – riders and non-riders. See flyer for more details and sponsors.
Sept 2016 – Roar to the Shore – Bike Week in Wildwood. More details to follow
September 17, 2016 – Legion Annual FAMILY Day – More details to follow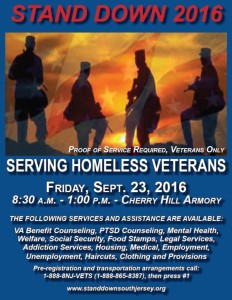 September 23, 2016 – Stand Down of South Jersey at Cherry Hill Armory. 8:30am – 1pm. To volunteer or donate, visit their website at http://www.standdownsouthjersey.org/
September 23, 2016 – NJ Run for the Fallen. Details to follow.
November 2016 – Veterans Day at the Legion. Details or ceremony to follow
November 2016 – Thanksgiving for the Troops at the Battleship of NJ. Details to follow.
December 3, 2016 – 9th Annual Cpt Greg Dalessio 5K Run/Walk – Details to follow.