There will not be a Friday Night Dinner this week (8/29).
——————————————–
ATTENTION SAL MEMBERS - There will be a SAL Meeting Wed, 9/10 to ensure that all plans are being implemented for Family Day, which is on Saturday 9/13.
ATTENTION AUXILIARY MEMBERS: While our regular monthly meetings are due to resume in September and are regularly scheduled for the 1st Monday, our meeting will be held on the second Monday since the first Monday is Labor Day Wknd. Meeting will be held on Monday, September 8th 2014.
LEGION and ANNUAL UPCOMING EVENTS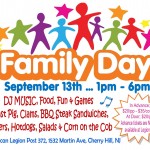 Saturday, September 13th, 2014. Annual Family Day at the Legion. 1pm – 6pm. DJ Music, Food, Fun and Games. In advance $20/pp or $35/per couple. At Door $20/pp. Tickets available at the Legion.Chances available for $1. Drawing to be held at Family Day. $500 Visa Gift Card, iPad Mini and $200 Wegmans Gift Card. Tickets available at the Legion
Wednesday, September 17th, 2014 – Life Line Screening, a leading provider of community-based preventive health screenings, will host their affordable, non-invasive and painless health screenings on 9/17/2014 at the American Legion Post 372 (1532 Martin Ave., Cherry Hill, NJ).  Five screenings will be offered that scan for potential health problems related to: blocked arteries which is a leading cause of stroke; abdominal aortic aneurysms which can lead to a ruptured aorta; hardening of the arteries in the legs which is a strong predictor of heart disease; atrial fibrillation or irregular heart beat which is closely tied to stroke risk; and a bone density screening, for men and women, used to assess the risk of osteoporosis. Register for a Wellness Package which includes 4 vascular tests and osteoporosis screening from $149 ($139 with our member discount).  All five screenings take 60-90 minutes to complete. In order to register for this event and to receive a $10 discount off any package priced above $129, please call 1-888-653-6441 or visit http://www.lifelinescreening.com/community-partners.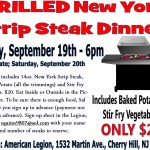 Friday, September 19th, 2014 – September Steak Dinner on the Grill !! - 6:00pm. Dinner includes 14oz. New York Strip Steak, Baked Potato (all the trimmings) and Stir Fry Vegetables. $20. Eat Inside or Outside in the Picnic Grove. Rain Date is Saturday, September 20th. To be sure there is enough food, Sal asks that you sign up in advance (payment not needed in advance). Sign up sheet in the Legion, or email squinn9807@aol.com with number of steaks/dinners.
Friday, September 26th, 2014 – Operation Stand Down at the Cherry Hill Armory. 8:30am-1pm. The South Jersey Stand Down has been held annually since September 1996.  Volunteer to help our local Homeless Veterans. Duties you can choose from include escorting a homeless vet through the stations at the Armory, help hand out free supplies to vets, and more. Report to Cherry Hill Armory by 8:30am. Pre Registration is appreciated. For more information and/or to pre register, click here.
Friday, September 26, 2014 – NJ Run for the Fallen -  For details of times/stops, contact an American Legion Rider. As in past years, we will stop at the Hero markers of our Cherry Hill KIA – Greg Dalessio (Hero Marker 23), John Spahr (Hero Marker 28) and Jeremy Kane (Hero Marker 33). To view full map and other Hero Markers, click here. For more information about NJ Run for the Fallen and events, click here.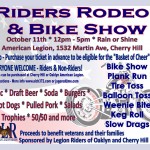 Sunday, September 28th, 2014 – Nam Knights of America – Delaware Valley Chapter – 8th Annual Fall Bash and Poker Run – Rain Date Oct 5th. Poker Run Registration 10:30am. KSU 11am. Register at American Legion Cherry Hill, 1532 Martin Ave., Cherry Hill, NJ. FALL BASH from 1pm-5pm at Barbs HD, 926 Black Horse Pike, Collingswood, NJ. Music by DJ Mike "CHuckles" May, Chinese Auction, 50/50, Bike Show, Tattoo Contest, lots of food, draft beer, soda and water. For tickets contact Chainsaw. Donation $20
Saturday, October 11th, 2014 – Riders Rodeo and Bike Show. 12noon – 5pm. $20/pp. Purchase tickets in advance to be eligible for the Basket of Cheer. Music, Burgers, Hot Dogs, Salads, etc – Draft Beer, Soda, Water – Trophies –  Bike Show, Plank Run, Weiny Bite, Keg Roll, Tire Toss, Balloon Toss, Slow Drags. Tickets available at Legion.
—————–
34th National Veterans Wheelchair Games - Over 600 disabled veterans from around the country participated in the Games held in Philadelphia and New Jersey last week. Some of our members came out to support and volunteer to help the veterans. To view photos and video from the week long event, click here.
---
Member, Chris Carr Jr. deployed to Qatar August 7, 2014
 In May, new members Jamie (Aux) and Don (SAL) Norris threw a deployment party for their son, Spec Chris Carr Jr, at the American Legion. What a great day it was ! A staggering number of bikes and supporters came out to show their support for Chris.
To show our support to Chris and let him know how much we appreciate his service, we provided a surprise motorcycle escort for Chris to the party. Those that didnt ride motorcycles, came out to meet Chris as he arrived in on the motorcycle escort. Chris and his friend, Anthony, both left our Legion with a little keepsake (Oscar Meyer Weiner whistles) and promises of care packages headed their way (so long as they took Oscar with them)
Spec Chris Carr Jr. joined the Natl Guard Armory in 2010. He is with the 1/114th Alpha Comp of Mt Holly. In June, his unit was sent to Ft Bliss and he was deployed to Qatar for Peace keeping and secuirty on August 7th.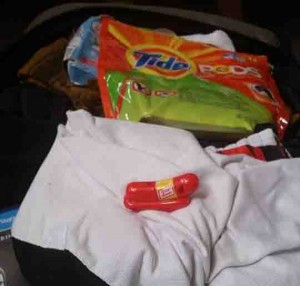 Before leaving Ft Bliss, Chris contacted us to let us know he was leaving for Qatar and to show us via photo that Oscar was packed and ready to go!!!
Please keep Chris and Anthony in your prayers for a safe return.To view the video from Chris's Deployment party, click here or on image below.