Meetings going on Summer Schedule. There will be no Legionnaire General Meetings, SAL Meetings or Auxiliary meetings in the months of June, July or August. If any Unit decides to have a special meeting during the summer, the Unit Commander/President will advise its members. The Legion Riders continue their meetings throughout the summer and Legionnaires continue their EBoard meetings throughout the summer as well.
Legion Emails notifications going on Summer Schedule. You will receive an email once a month in June, July and August. In the event important information/events come up, you will be advised by your Unit Commander/President and/or a special email blast. It is suggested you bookmark our website and visit it for any news and updates.
Friday Night Dinner Specials for May 29, 2015 -Shrimp Alfredo with Garlic Bread $10.95 OR Sampler $11.95. All Regular Menu items available.
The Kitchen will NOT be open for Friday Night Dinners in the month of June due to Hall Rentals. To check on dinner specials beyond these dates, please check our website
Join our Legion Facebook Page by clicking here.  If you have any photos from any events, please post them there, and we will add them to our website as time allows
UPCOMING EVENTS
STAND DOWN on Locustwood Cemetery Clean Up that was scheduled for Thursday, May 28th at 6pm. The cemetery has already been cleaned and they do not need our assistance. Thank you for the volunteers that offered their help
Thursday, May 28, 2015 – Call to Arms ! Locustwood Cemetery Clean Up for Statewide Services. Volunteers wanted. Meet at Legion at 6pm, we will then proceed to cemetery. Should take 1-2hours. 2 Free drinks at Legion afterwards. Please email squinn9807@aol.com to volunteer.
Saturday, May 30, 2015 – Flagging of Cpl Jeremy Kane KIA 5K Run Route. Jeremy, a Cherry Hill native, was KIA in Afghanistan in 2010.  As in the past, our American  Legion will flag the 5K route. Meet at Cherry Hill East High School at 8am on May 30th to help flag. If you can help please email squinn9807@aol.com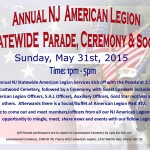 Sunday, May 31st, 2015 – 80th Annual Locustwood NJ American Legion STATEWIDE Parade, Ceremony & Social – The Annual NJ Statewide American Legion Services kick off with the Parade on Sunday, May 31st at 1:30pm at Locustwood Cemetery, followed by a Ceremony, with Guest Speakers including NJ American Legion Officers, S.A.L. Officers, Auxiliary Officers, Gold Star mothers and others. Afterwards there is a Social/Buffet at American Legion Post 372, Cherry Hill. Be sure to come out and meet members/officers from all our NJ American Legions !! Its a great opportunity to mingle, share news and events with our fellow Legions !!!
June 11th – 13th, 2015 – Annual American Legion Convention in Wildwood.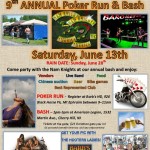 June 13, 2015 – Nam Knights Annual Bash - Saturday, June 13, 2015 (Rain date June 28th) POKER RUN – Register at Barbs HD, 926 E Black Horse Pike, Mt Ephraim, NJ between 9-11am. FALL BASH – 1-5pm at American Legion, 1532 Martin Ave., Cherry Hill, NJ 08002. Vendors, Barometer Live Band, Food, Chinese Auction, Beer, Bike Games, Best Represented Club. Get your picture with the Hooters Ladies. Tickets at Gate – $25 Donation gets you in! All proceeds benefit veterans and law enforcement. http://www.delvalnamknights.org/.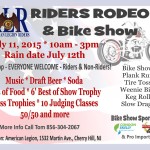 July 11, 2015 – Legion Riders Rodeo and Bike Show. Rain Date July 12th. 10am-3pm. $20 donation. Everyone Welcome – Riders and Non Riders. Music, Beer Soda, Lots of Food, Bike Show, Plank Run, Tire Toss, Weenie Bite, Keg Roll, Slow Drags, 6′ Best of Show Trophy, Class Trophies, 10 Judging Classes, 50/50 and more. More info call Tom 856-304-2067.