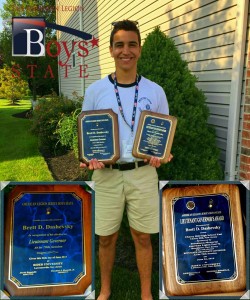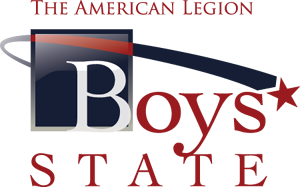 Brett Dashevsky, a Legion Post 372 delegate for Boys State, was elected as Lt Governor at Boys State this past week. Congrats Brett! 
A huge congrats also goes out to the 14 other boys that our Legion sent to Boys State – among which we have a Mayor and Freeholders as well….JOB WELL DONE young men! Click on names below to view profiles.
Carusone, Ellis, Kim, Lado , Korte, Rosica, Stewart, deBlecourt,  Dashevsky, Crozier, Greenberg, Finkelstein, Golkow, Herceg, Procida
Girls State Results to follow !!!
Just a reminder that we are on our Summer Schedule with Legion Meetings - There will be no Legionnaire General Meetings, or Auxiliary meetings in the months of June, July or August. If any Unit decides to have a special meeting during the summer, the Unit Commander/President will advise its members. The SALs will have a Family Day Meeting on August 19th 7:30pm. The Legion Riders continue their meetings throughout the summer and Legionnaires continue their EBoard meetings throughout the summer as well. If you have any questions, please contact your Commander/President/Director for more details.
Legion Emails notifications going on Summer Schedule. You will receive an email once a month in June, July and August. In the event important information/events come up, you will be advised by your Unit Commander/President and/or a special email blast. It is suggested you bookmark our website and visit it for any news and updates.
The Kitchen will NOT be open for Friday Night Dinners in the month of June due to Hall Rentals. To check on dinner specials beyond these dates, please check our website
Join our Legion Facebook Page by clicking here.  If you have any photos from any events, please post them there, and we will add them to our website as time allows
UPCOMING EVENTS
FOR OTHER LOCAL VETERAN RELATED EVENTS, Click here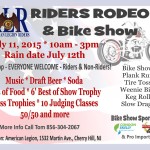 July 11, 2015 – Legion Riders Rodeo and Bike Show. Rain Date July 12th. 10am-3pm. $20 donation. Everyone Welcome – Riders and Non Riders. Music, Beer Soda, Lots of Food, Bike Show, Plank Run, Tire Toss, Weenie Bite, Keg Roll, Slow Drags, 6′ Best of Show Trophy, Class Trophies, 10 Judging Classes, 50/50 and more. More info call Tom 856-304-2067.