August 7, 2016 – Motorcycle Escort and Thank You – The daughter and son of American Legion / Nam Knights MC members have just graduated USMC Boot Camp. Join us to celebrate their accomplishment! More details to follow.
Sept 2016 – Roar to the Shore – Bike Week in Wildwood. More details to follow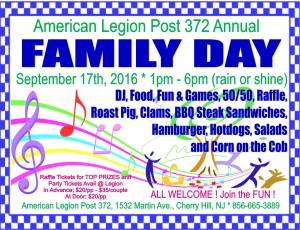 September 17, 2016 – Annual American Legion FAMILY DAY – Mark your calendars and get your tickets! The SALS Annual American Legion Family Day is Saturday, September 17th – 1pm-6pm. Rain or Shine ! DJ Music, Fun, Games, 50/50 Raffle, Roast Pig, Clams, BBQ Steak Sandwiches, Burgers, Dogs, Salads and much more!… Party tickets and raffle tickets for TOP PRIZES are available at the Legion.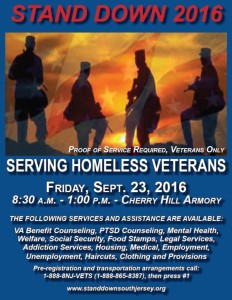 September 23, 2016 – Stand Down of South Jersey at Cherry Hill Armory. 8:30am – 1pm. To volunteer or donate, visit their website at http://www.standdownsouthjersey.org/
September 23, 2016 – NJ Run for the Fallen. Details to follow.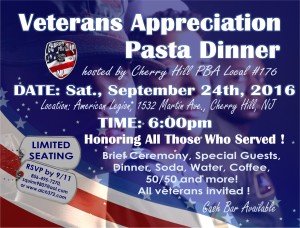 September 24, 2016 – Veterans Appreciation Dinner hosted by Cherry Hill PBA Local 176 at 6pm at the American Legion Post 372, 1532 Martin Ave, Cherry Hill, NJ. Brief Ceremony, Special Guests, Dinner, Coffee, Soda, Water, 50/50 and more. Cash bar available. Veterans that are interested in attending should RSVP asap as there is limited seating. RSVP to 856-495-7270, squinn9807@aol.com
November 2016 – Veterans Day at the Legion. Details or ceremony to follow
November 2016 – Thanksgiving for the Troops at the Battleship of NJ. Details to follow.
December 3, 2016 – 9th Annual Cpt Greg Dalessio 5K Run/Walk – Details to follow.