Friday Night Dinner Special for September 19th- Baked Ham, Potatoes, Veggie $9.95 OR Lemon Chicken, Potatoes, Veggie $9.95. All Regular Menu Items are also available during this time. Kitchen will be open until 9pm.  **** the STEAK DINNER NIGHT that was scheduled for this Friday (Sept 19th) has been POSTPONED until Friday, OCT 3rd. Sign up sheet at the Legion
FOOTBALL SEASON is HERE ! … The American Legion will be providing COMPLIMENTARY FOOD during the Eagles games on Sunday and during Monday Night Football !! Be sure to come out and watch the games!
UPCOMING EVENTS
POSTPONED UNTIL Friday, October 3rd, 2014 . Friday, September 19th, 2014 – September Steak Dinner on the Grill !! - 6:00pm. Dinner includes 14oz. New York Strip Steak, Baked Potato (all the trimmings) and Stir Fry Vegetables. $20. Eat Inside or Outside in the Picnic Grove. Rain Date is Saturday, September 20th. To be sure there is enough food, Sal asks that you sign up in advance (payment not needed in advance). Sign up sheet in the Legion, or email squinn9807@aol.com with number of steaks/dinners.
Friday, September 19, 2014 – POW/MIA Recognition Day Service – NJ American Legion will hold its annual POW/MIA Service at 5:30pm Lindenwold Memorial, 2001 Egg Harbor Road, Lindenwold, NJ,
Friday, September 26th, 2014 – Operation Stand Down at the Cherry Hill Armory. 8:30am-1pm. The South Jersey Stand Down has been held annually since September 1996.  Volunteer to help our local Homeless Veterans. Duties you can choose from include escorting a homeless vet through the stations at the Armory, help hand out free supplies to vets, and more. Report to Cherry Hill Armory by 8:30am. Pre Registration is appreciated. For more information and/or to pre register, click here.
Friday, September 26, 2014 – NJ Run for the Fallen -  For details of times/stops, contact an American Legion Rider. As in past years, we will stop at the Hero markers of our Cherry Hill KIA – Greg Dalessio (Hero Marker 23), John Spahr (Hero Marker 28) and Jeremy Kane (Hero Marker 33). To view full map and other Hero Markers, click here. For more information about NJ Run for the Fallen and events, click here.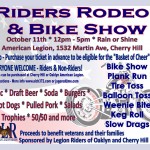 Sunday, September 28th, 2014 – Nam Knights of America – Delaware Valley Chapter – 8th Annual Fall Bash and Poker Run – Rain Date Oct 5th. Poker Run Registration 10:30am. KSU 11am. Register at American Legion Cherry Hill, 1532 Martin Ave., Cherry Hill, NJ. FALL BASH from 1pm-5pm at Barbs HD, 926 Black Horse Pike, Collingswood, NJ. Music by DJ Mike "CHuckles" May, Chinese Auction, 50/50, Bike Show, Tattoo Contest, lots of food, draft beer, soda and water. For tickets contact Chainsaw. Donation $20
Saturday, October 11th, 2014 – Riders Rodeo and Bike Show. 12noon – 5pm. $20/pp. Purchase tickets in advance to be eligible for the Basket of Cheer. Music, Burgers, Hot Dogs, Salads, etc – Draft Beer, Soda, Water – Trophies –  Bike Show, Plank Run, Weiny Bite, Keg Roll, Tire Toss, Balloon Toss, Slow Drags. Tickets available at Legion.
Sunday, October 26th, 2014 – Welcome Home Escort & Flag Line at the Legion. Mark your calendars. Details to follow.
Sunday, November 9th, 2014 – VETERANS DAY SERVICE at the Legion. Stay tuned for more details.
Sunday, November 9th, 2014 – Camden County Veterans Day Ceremony – 1pm at Veterans Island, Cooper River Park, Pennsauken, NJ.
Thursday, November 27th, 2014 – THANKSGIVING FOR THE TROOPS - Calling all Volunteers to Cheer on and Greet Our Troops This Thanksgiving Day. Thursday, November 27, 2014 10am. Rain or Shine – on the pier of the Battleship New Jersey. Free Parking in Lot #1, diagonal from the Susquehannna Bank Center. Bring your holiday cheer and greet our troops as they arrive for a tradition full course turkey dinner on Thanksgiving. Help us honor Active Duty Military and their families aboard our nations most decorated battleship. Join the crew of the Battleship New Jersey, Camden County Board of Chosen Freeholders, the Camden County Office of Veterans Affairs, Andreottis Catering and our event host, the Spevak family. Bring flags and posters to show your support. All volunteer greeters will enjoy refreshments and entertainment by the Original Trilby String Band. More details to follow