3/14 - Fried Flounder, French Fries and Coleslaw $8.95 OR Lasagna with Meatballs $9.95. All Regular Menu Items are also available during this time. Kitchen will be open until 9pm
UPCOMING EVENTS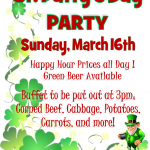 March 16th – St Patricks Day at the Legion to be celebrated on Sunday, March 16th – Happy Hour Prices ALL DAY ! Buffet to be put out at 3pm; Corned Beef, Cabbage, Potatoes, Carrot, Green Beer and more!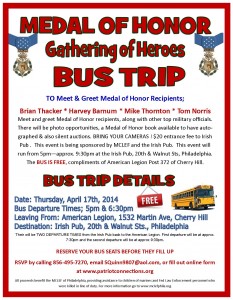 April 17, 2014 – Medal of Honor Bus Trip – Gathering of Heroes.  Bus Trip Details – Date: Thursday, April 17th, 2014 Bus Departure Times; 5pm & 6:30pm Leaving From: American Legion, 1532 Martin Ave, Cherry Hill Destination: Irish Pub, 20th & Walnut Sts., Philadelphia. For the 3rd year, the American Legion Post 372 is organizing a BUS TRIP TO Meet & Greet Medal of Honor Recipients, along with other top military officials…more information click here
May 18, 2014 – Flagging of Locustwood. Details to follow.
May 26, 2014 – Memorial Day Services. Memorial Day Services at American Legion Post 372, 1532 Martin Ave., Cherry Hill, NJ 9:30am.
PROCEED TO LOCUSTWOOD CEMETERY FOR MORE SERVICES – then
PROCEED TO BATAAN CORREDGIDOR MONUMENT (Cooper RIver Park) – then PROCEED TO CHERRY HILL MUNICIPAL BUILDING (Mercer St) at 1100 hours. Following the ceremony, attendees are invited to stay for lunch. Details to follow.
June 1, 2014 – The Annual NJ Statewide American Legion Services kick off with the Parade at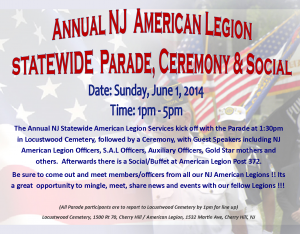 1:30pm in Locustwood Cemetery, followed by a Ceremony, with Guest Speakers including NJ American Legion Officers, S.A.L Officers, Auxiliary Officers, Gold Star mothers and others.  Afterwards there is a Social/Buffet at American Legion Post 372. Be sure to come out and meet members/officers from all our NJ American Legions !! Its a great  opportunity to mingle, meet, share news and events with our fellow Legions !!!
June 12 – 14th, 2014 – Annual American Legion Convention in Wildwood. Details to follow.
June 2014 – 7th Annual Cherry Hill Veteran Car, Truck and Bike Show. Details to follow. For more info, call John Giacoboni at 856-616-1232
July 2014 – Merchantville Car/Bike Show. Details to follow.