It is with deep regret we inform you of the passing of Commander Bill Quinn's daughter-in-law, Colleen J. Quinn. Relatives and friends are invited to her visitation at Blessed Teresa of Calcutta Parish, St. John's Church, 809 Park Ave., Collingswood, on Saturday, December 7th from 9 a.m. until 10:30 a.m. A Memorial Mass will follow at 10:30 a.m. Colleen's family requests that in lieu of flowers donations be made to the Wounded Warrior Project, P.O. Box 758517, Topeka, Kansas 66675.
SAL'S FRIDAY NITE DINNER SPECIALS for 12/6; Pork Chops Pizziaola $10.95 OR Chicken Marsala $9.95.  All Regular Menu Items are also available during this time. Kitchen will be open until 9pm. To view Menu and hours, click here.
---
6th ANNUAL GREG DALESSIO 5K RUN/WALK - Saturday, December 7th. Cpt Greg Dalessio is one of the 3 Cherry Hill residents that were killed in action in Iraq/Afghanistan. He is also on of the men we honor during the Run for the Fallen in September. Every year our Legion has helped the Dalessio family out with their Annual 5K Run/Walk by providing fruit for the runner/walkers, flagging and the motorcycle/flag line – we could use some more participation by members. Please consider participating in this event this year. 
If interested in helping to flag the 5K route, meet at Catholic Community of Christ our Light, 402 North Kings Hwy, Cherry Hill, NJ 08034 at 7:30am on Friday, December 6th. WE ARE CHANGING THE DAY/TIME DUE TO WEATHER FORECAST. We may do on Thursday morning. If you are interested in helping please contact Sue on Wednesday for more information.
If interested in joining the motorcycle and Flag Line at the beginning of the race, meet at the Shopping Center at Kings Hwy and Chapel Ave on Saturday, December 7th at 6:45am. Our own Senior Vice Commander, Tim Kraft, will be on hand with the Cherry Hill Rehab Unit to supply us with coffee and hot chocolate!
If interested in participating in the 5K Run/Walk, registration for the run begins at 6:45am at the Catholic Community of Christ our Light, 402 North Kings Hwy, Cherry Hill, NJ 08034. Race starts at 8am. Rain or Shine.
---
LEGION HOLIDAY PARTY – December 22nd – Join us for our Annual Holiday Party from 2pm – 5pm at the Legion. Happy Hour Prices, Free Jukebox. Bring a dish/snack.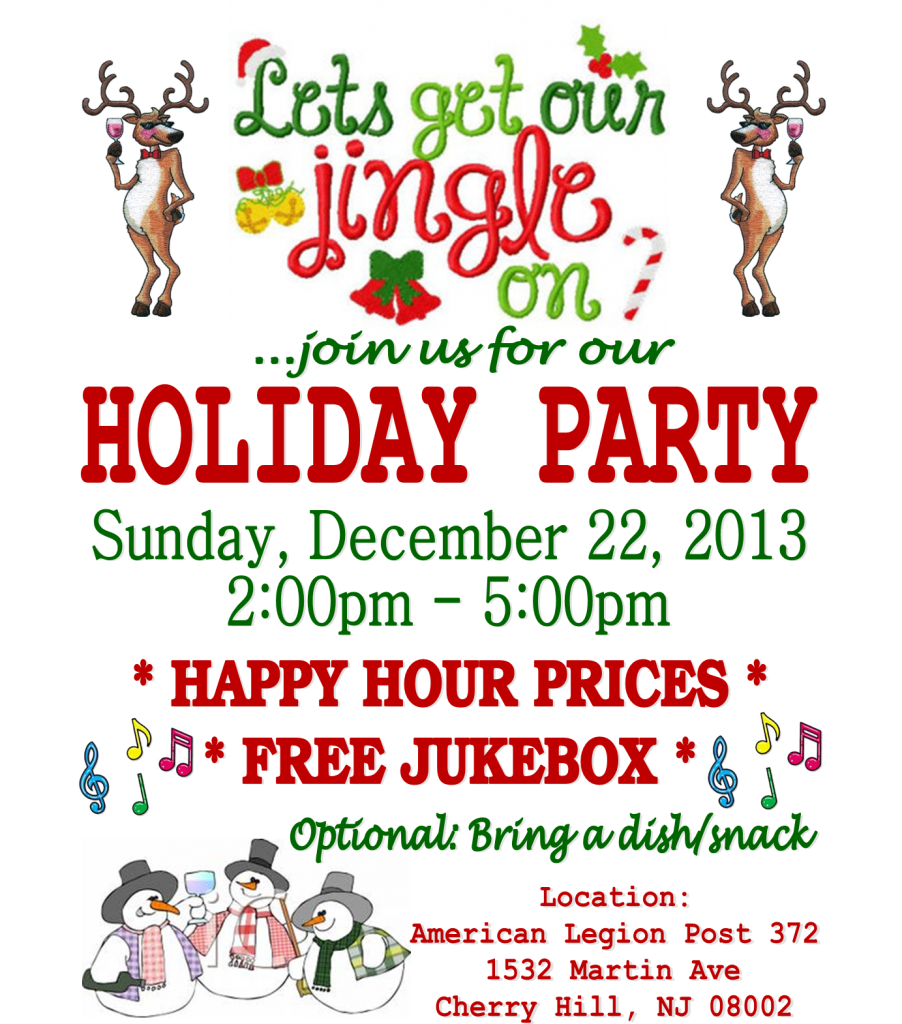 HOLIDAY FOOD COLLECTIONS;
Please consider donating some items for our Food Baskets for our families in need. We are accepting donations at the Legion up to Friday, December 20th.
---
TOY FOR TOTS – Accepting donations of unwrapped toys. Deadline for donations is Friday, December 13th.
---
PET DONATIONS & GREYHOUND MILKBONES – Accepting donations for our furry friends in need.
Donations may be dropped off at the Legion.
---
HOME FOR THE BRAVE -
25 local Homeless veterans
will be transitioning to housing in the next couple of weeks. These veterans are in need of household items (ie; dishes, pots/pans, utensils, towels, toiletries, etc). If you have some gently used items to donate, please drop them off at the Legion by 11/27. (If you have a large quantity of items, please
email
ahead so arrangements can be made for storage of items.)