Welcome to American Legion Post 372 of
Cherry Hill, NJ

Welcome to the American Legion Post 372 website. We are located at 1532 Martin Ave., Cherry Hill, NJ. The American Legion was chartered and incorporated by Congress in 1919 as a patriotic veterans organization - it is the nation's largest wartime veterans service organization, committed to mentoring youth and sponsorship of wholesome programs in our communities, advocating patriotism and honor, promoting strong national security, and continued devotion to our fellow servicemembers and veterans.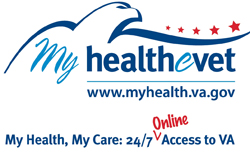 The American Legion is a nonpartisan, not-for-profit organization with great political influence perpetuated by its grass-roots involvement in the legislation process from local districts to Capitol Hill. Legionnaires' sense of obligation to community, state and nation drives an honest advocacy for veterans in Washington.
The American Legion's success depends entirely on active membership, participation and volunteerism. The organization belongs to the people it serves and the communities in which it thrives. Please browse through our website for information about what we do, our hours of operation, upcoming events and consider joining our Legion family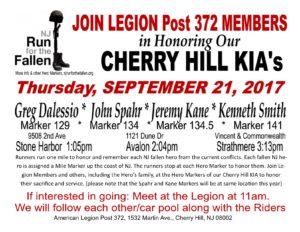 September 21, 2017 - NJ RUN FOR THE FALLEN - Once again, Legion members will honor our heroes from Cherry Hill that sacrificed their lives for our country. Unfortunately, this year we had to add another, Navy Sailor Kenneth Smith, to the list. We will all meet at the American Legion at 11am and depart for the shore at approx 11:30am (car pool if you like) We will be stopping at 4 Hero Markers. At each one the NJ Run for the Fallen Runners will stop and honor each hero, along with their families/friends. Our stops include Stone Harbor, Avalon,  and Strathmere. See flyer for details on the stops we will make.
September 22, 2017 - STAND DOWN of SOUTH JERSEY - 7am - 3pm at Cherry Hill Armory. Join American Legion members as we help our less fortunate veterans. Volunteers are needed for various duties/time slots. If you can spare some time to help our homeless veterans, please sign up to be a volunteer on their website at http://www.standdownsouthjersey.org/
October 7, 2017 - VETERANS APPRECIATION DINNER - Open to all Veterans. RSVP to reserve your seat! Free - hosted by Cherry Hill PBA. 6pm. Brief Ceremony, Special Guest Retired Army Sgt and Police Officer Max Janofsky, Dinner, 50/50, Coffee, Soda, Water. Cash Bar Available. RSVP to Sue at 856-495-7270 or squinn9807@aol.com.
October 21, 2017 - Legion Riders Halloween Party - Details to follow
To view other local events in our area, visit http://www.patriotconnections.org
September 16, 2017 - FUNERAL for Navy Petty Office Kenneth Smith, 22, of Cherry Hill. Kenny was killed when the ship on which he was serving, the USS John S. McCain, collided with an oil tanker just southeast of Malaysia. He was 22. Smith, a 2013 graduate of Cherry Hill High School East. Visitation will be held on Saturday, September 16 from 1:00 to 3:45 PM at St. Andrews United Methodist Church, 327 Marlton Pike West, Cherry Hill, NJ 08002. Funeral service Saturday 4pm. In lieu of flowers, contributions in his memory may be made to St. Andrews United Methodist Church. - Please try and stop in and pay respects. For anyone interested in joining in the Flag Line, bring your 3 x 5 flag and be at Church by 12:45pm. Flag Line to be in place from 12:45pm - 4pm.