Recounting the 2016 Gathering of Heroes – 'Greatest Beer Run Ever'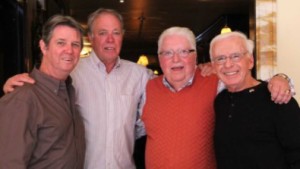 Members of the American Legion, Nam Knights and friends once again embarked on the Bus Trip to the 7th Gathering of Heroes, an event held at the Irish Pub, to benefit the Marine Corps Law Enforcement Foundation.
Prior to the trip (which the American Legion pays for), the Nam Knights put out a wonderful buffet for all to enjoy.
Among the heroes at this years event were 3 Medal of Honor recipients—Brian Thacker, Mike Thornton, Barney Barnum and fellow Vietnam veterans Chickie, Ricky, Bobby and Tommy, from the viral video "The World's Greatest Beer Run" sponsored by Pabst Blue Ribbon.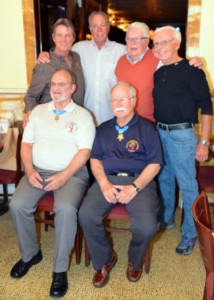 . The video explains their story— four guys who grew up together in New York — all from Inwood, just a skip and a jump from the Bronx.
"I grew up in a tight Irish-Jewish neighborhood on the northern end of Manhattan Island," said John "Chick" Donohue, 75. "We had a very large, active parish, Good Shepherd."
When they came of age, Donohue and his friends shipped out to fight in Vietnam. Chickie was the first one home, in the fall of 1967. At the time, large anti-war demonstrations were taking place in Central Park.
"I was not angry, but I was not happy looking at that," said Donohue,  "At that time, in our parish, we buried 26 young men from the neighborhood."
He got to drinking with the regulars at Doc Fiddler's, his neighborhood bar, and it was decided that the guys overseas needed to know they had their backs.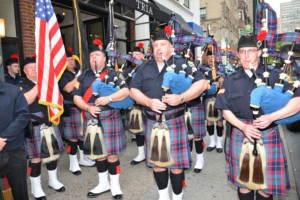 "We loved them, in a way. But you couldn't say that. You have to say, 'Don't worry, brother, I'm with you. The guys are with you,'" said Donohue. "We should buy them all a beer. So, I brought the beer."
Donohue packed a case of Pabst in a duffel bag and began a months-long journey into the hot spots of the Vietnam War — at times directly in the line of fire — to pat his friends on the back and split a few beers. The tale, by now told many times, has been dubbed "The Greatest Beer Run Ever."
With no weapon, no military fatigues, dressed in a madras shirt and white jeans, he talked his way onto a freight ship loaded with military supplies heading to Vietnam. Once there, he conned his way onto planes, helicopters, and convoys, criss-crossing Vietnam with a couple of six-packs.
He knew how military supply and logistics operated and he looked like a civilian, so naturally everyone assumed he was a federal agent.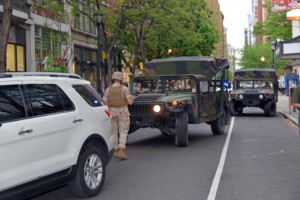 Chickie, with his gift of gab, slid easily into that role.
"I had to exaggerate and change the circumstances a little bit," said Donohue. "I was on a mission. Part of the mission is to accomplish the mission. If I'm one plane ride away, or one helicopter ride away, what am I gonna do — go home and tell Tommy's mother I couldn't find him?
"No. You go for it."
His life was in danger more than once. He was caught in a firefight in the jungle, draped under a camouflaged poncho. He spend a night huddled under a staircase in an abandoned building in Saigon on the first night of the Tet Offensive, hallucinating that he was already dead.
"To this day it baffles me how he was able to find me," said Rick Duggan, who was part of a roaming infantry unit on the perimeter of the DMZ.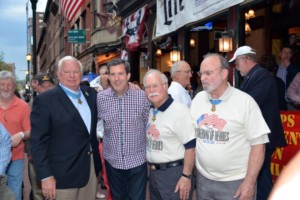 "When he showed up it was, like, 'This is crazy. How did you possibly accomplish this?'" said Duggan. "The fellas in my squad were mesmerized. They all had questions for him: Why did you come? Where did you come from? Why did you do this?
"When he left, they said, 'Listen, you could tell me white is black and black is white, and I'll believe you. You had a guy from the neighborhood visit you? It's incredible.'"
Donohue shared (more than a few) beers with Duggan, Bobby Pappas, and Tommy Collins; they all got back to the neighborhood in one piece, then they went their separate ways.
They reunited at Irish Pubs in Philadelphia, alongside of Medal of Honor recipients and other top military officials in the area, to raise money for the children of fallen soldiers.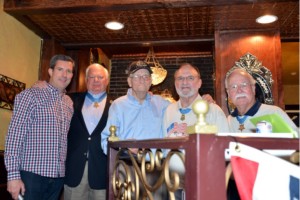 Their story has been written as a book, "The Greatest Beer Run Ever," by Joanna Molloy, to be published this summer.
A great time was had by all.
(part of posting/article BY PETER CRIMMINS )