Funeral – Edward "Tug" Devine – Service, Flag Line, Escort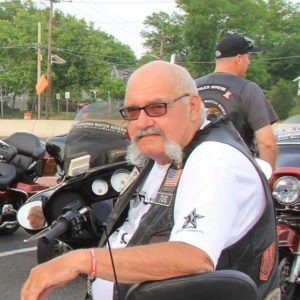 LEGION RIDERS will Rally at Legion at 9am, KSU from Legion at 9:25ish and will proceed to main rally point at Staples Parking Lot – across from Barbs. If you are going to the funeral in a vehicle, other then a motorcycle, go directly to the funeral home.
See below for all details.
On January 29,2017 Edward "Tug" Devine passed away.
Known and loved by many, he was a true patriot, and widely known for his dedication and volunteerism with Warriors Watch Riders, NJ Run for the Fallen and the Bellmawr Park Fire Dept (life member) to name a few.
He was always finding away to serve our community. He was big man with even a bigger heart. Always thanking a Veteran for their service to our country.
Funeral Services will be Saturday, February 4th at Gardner Funeral Home, 126 Black Horse Pike, Runnemede, NJ from 11am-2pm, with a Celebration of Life Service at 2pm.
For anyone that plans on RIDING to Tugs Service, please MEET at Staples Parking Lot, Black Horse Pike (across from Barbs HD), Mt Ephraim, NJ at 9:45am. Kick Stands Up at 10:15am – WE WILL ARRIVE AT THE FUNERAL HOME AS A GROUP.
Flag Line at the Funeral Home.
After the Services, we will ESCORT Tug's family to a luncheon.
Obituary
Edward J. Devine, "Tug", on January 29, 2017, of Bellmawr. Age 63.
Beloved son of the late Daniel and Anna. Devoted father of Dawnmarie Oliver (K.C.), Daniel (Leigha), Joyce, and the late Robert. Loving grandfather of Zac, Chase, John, Caleb, and Jaxon. Dear brother of Terry Montenigro. Cherished uncle of Anthony and Angie Fedele. Also survived by his entire Warriors Watch family.
Tug was the Southern NJ Coordinator for the Warriors Watch Riders and an escort for the NJ Run for the Fallen. He was the former chief for McCallister Towing and an assistant engineer for Bouchard. Tug was also a former Camden County Fire Marshall and a former volunteer for Bellmawr Park Fire Department.
There will be a visitation from 11am to 2pm Saturday at GARDNER FUNERAL HOME, RUNNEMEDE.
Celebration of Lif 2pm at the funeral home.
Interment private.
In lieu of flowers, donations may be made in Tug's name to the NJ Run for the Fallen, PO Box 474, Wrightstown, NJ 08562, or to Operation Yellow Ribbon of South Jersey, PO Box 43, Marlton, NJ 08053.