9/11 Remembrance Service at Cherry Hill Fire Department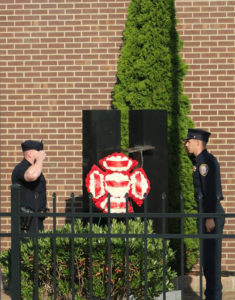 September 11, 2017 – 9/11 REMEMBRANCE at Cherry Hill Fire Department on Marlkress Rd. at 8:30am. Members of the Cherry Hill Fire Department, Cherry Hill Police Department as well as members of Township Council and the American Legion gathered to pay tribute to those who lost their lives as a result of the terrorist attacks that occurred on September 11, 2001.
A memorial service was held at Central Command, the location of the Township's 9/11 Memorial. A moment of silence was held at 0846 hours and a commemorative wreath was placed at the flag pole for observance of this solemn occasion.
The centerpiece of the Memorial is a 3-foot long piece of steel from 1 World Trade Center (north tower), suspended between two black granite towers representative of the Twin Towers. The towers stand on a granite pentagon-shaped base. The monument was dedicated "In Honor of the Lives Lost on September 11, 2001".
The Memorial was designed by Firefighter Edward Morris and constructed by Cherry Hill Firefighters, EMS, Cherry Hill Police, and Cherry Hill Township Public Works' members and made possible by the generous donations of many businesses and individuals in the community.